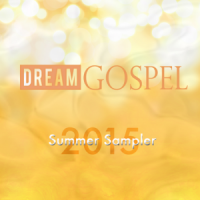 Dream Gospel is excited to announce the release of its 2015 Summer Sampler! The 11 song sampler features singles from some of Gospel's hottest artists and future stars like: Zie'l, B Chase, Andrea Helms, Rod Lumpkin and many more.  Download the Summer Sampler for free here!
If you like an artist and want to buy their album, visit the Dream Store or iTunes.
Tracklist:
 B. Chase Williams & Shabach – He's Gonna Do It
 Andrea Helms– Clap Your Hands
 Uche Agu– The Glory
Benita Farmer– Mender of Me
Javis Mays– Closer
J Shep– How Great Thou Art
Marcus McFarlin– I Don't Know
 Rod Lumpkin II – Flows Like Water
 Zie'l – Beautiful
 Shaun P – You're The Best Thing
 Armar'rae Hill & True Foundation– Favor
DREAM was founded in 2008 to provide artists with a genuine approach to how real artist development should be done. By allowing for a partnership as a business model, Dream's artists empower themselves to develop and carry out a real vision for their lives as they affect other people's lives with their music and message. Incorporating social media, press, radio and touring it's allowing it's artists grow together as a family.