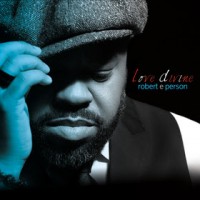 Robert E. Person is a versatile vocalist who has been noted as having incredible vocal control.  His classical voice education and training, coupled with his love for Gospel music has enabled the Washington D.C. native the opportunities to share his talents on theatre stages, in cathedral chapels and church sanctuaries, and festival arenas across the United States and abroad.  His 2015 indie project LOVE DIVINE is carrying the pristine vocalist to new heights and prestigious platforms.
Robert has a new Jazz Radio single – a beautifully orchestrated remake of "COME SUNDAY" (Duke Ellington)which features pianist Allyn Johnson and is now releasing the official lyric video to his current Gospel Radio single "I REALLY LOVE YOU" (written by Norman Hutchins).
Continuing his work on the theatrical stage, Robert's newest show has the singer literally shaking in his boots.  Robert has a lead role in THE WIZ at the Gaithersburg Arts Barn in partnership with ANKH Repertory Theatre and The Finest! Performance Foundation, Inc.  Robert plays the beloved character of the Cowardly Lion in The Wiz running now through August 23 in Gaithersburg, MD.
Highlighting the year for Robert is an upcoming engagement that is a historical moment for the Washington D.C. area and the United States – The 2015 Papal Visit.  The Vatican announced and confirmed Pope Francis to visit the U.S. (Philadelphia, New York and Washington D.C.) this September.  Pope Francis' Washington, D.C. schedule will include Mass on Wednesday September 23 on the east portico of the Basilica of the National Shrine of the Immaculate Conception and the University Mall at The Catholic University of America. During the Mass, the pope will canonize Blessed Junipero Serra.  During this service, Robert has been selected as one of the many vocalists to serve and sing in the Papal Choir and will offer an additional musical selection.
 Robert's LOVE DIVINE is available on all digital music outlets and is in stores across the country.  LOVE DIVINE is distributed nationally by New Day Christian Distributors.