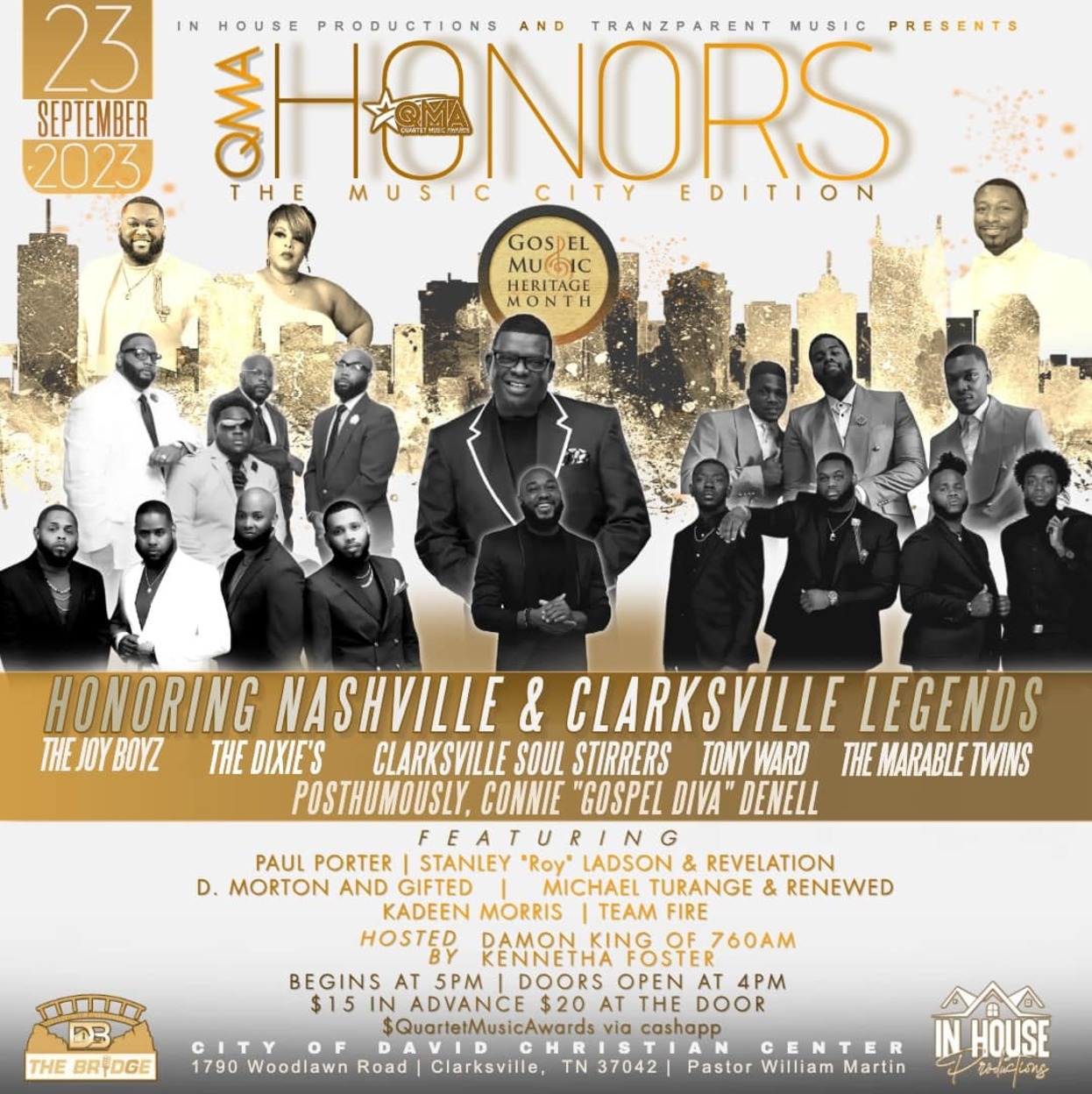 The Annual Quartet Music Awards (The QMAs) is a new and fast-growing Gospel music awards platform launched two years ago by D. Chubbs Morton and Connie Birth. They created the QMAs to acknowledge and celebrate the heritage and the future of Black Gospel Quartet music. From legendary artists, The Swannee Quintet, Lee Williams and The Spiritual QC's, and Evelyn Turrentine Agee to the dynamic new voices C. Dwayne and The Voices, Heidi Mae & Unified, and The McDuffies, the QMAs are positioning and promoting Quartet music so that it continues to thrive and maintain respect as a driving force in Gospel and Christian music.
In addition to the annual QMAs show, Morton and Birth have announced a new series, THE QMA HONORS. This pop-up event will recognize and showcase Quartet artists in various cities and regions throughout the country. Their first stop is the Nashville, TN region. The "2023 QMA Honors – Music City Edition" will be held on Saturday, September 23, at The City of David Christian Center, 1790 Woodlawn Rd, Clarksville, TN. The QMA Honors will begin at 5PM and feature Middle Tennessee's most powerful Quartet groups and singers.
The Nashville/Clarksville QMA Honorees are The Joy Boyz, The DIxies, Clarksville Soul Stirrers, Tony Ward, The Marable Twins, and special recognition to iconic radio personality Connie "The Gospel Diva" Denell (posthumously). Tickets are $15 in advance and $20 at the door.
The Quartet Music Awards is the vision of D. Chubbs Morton and Connie Birth. Morton is a songwriter, musician, and frontman for the Quartet group D. Morton and Gifted. Birth is a Gospel radio personality and music executive. The QMA Honors is the brainchild of Morton and Gospel music professional Derrick Bridges.
For more information about the QMA Honors, contact [email protected].