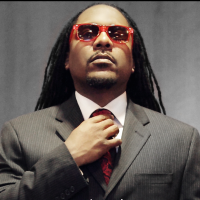 Wondrous World Records artist Restine Jackson is known for his spirited, passionate and unique performances.  The exceptional talents of the singer, songwriter, producer and composer have placed him on stages with top names in Gospel music including Mary Mary, Yolanda Adams, Ricky Dillard and Deitrick Haddon & The Voices of Unity, and on television programs such as BET's Bobby Jones Gospel and Teen Summit.  He's also been a favorite at Gospel radio with songs like "I Command My Soul To Bless The Lord" and "Get On Up".  Recently, he dropped a brand new single entitled "Nobody".  Merging urban stylings with an inspirational message, the track is mellow and uplifting at the same time.  The unforgettable single has been catching the attention – and the ears – of some of the most popular radio announcers in Gospel music.
Here is what they've been saying about the new single, "Nobody":
"Restine Jackson comes back strong with this amazing single 'Nobody'!  Signature to his style, this song will cross generations with the message that 'Nobody can do us like Jesus'!  I absolutely love it!"
– Cheryl Jackson, Stellar Award Winner & Mid-day On Air Talent on Radio One's WPRS-FM, Praise 104.1, Washington, DC
"Congrats Restine, with the new single, your hard work and dedication is paying off…and 'NOBODY' will be able to ignore this wonderful message!"
– Lee Michaels, Stellar Award Winner & Program Director of WCAO, Heaven 600, Baltimore, MD
"In a world that's full of relationships, Restine Jackson reminds us there is 'Nobody' like the Lord.  You can search high and low and at the end of your search, the results will be 'Nobody'!  Restine lays it on the line!"
– Fred Blain, Program Director & General Manager of WNAP Radio, Gospel Highway Eleven 1110AM, Philadelphia, PA
"'Nobody' has a fresh sound with great lyrics! Good for the summer! Restine Jackson has a very bright future in gospel music!"
– Lady Shaunte', Stellar Award Winner, Music Director & On-air Morning Radio Host of WENO 760AM, The Gospel Nashville
"Restine Jackson has a refreshing vocal sound.  His single 'Nobody' is smooth with an R&B old school flava giving God the glory.  I enjoy listening to his song."
– Liz Black, Stellar Award Nominee, Host of
Sunday
Praise on 107.5 WBLS, New York
"The latest single from Restine Jackson, 'Nobody', is what I like to call easy listening Gospel music.  It has a nice mid-tempo groove with nostalgic melodies that Gospel music is missing. Great song."
– Hasan James, Root Magazine, Editor-In-Chief & WIMG 1300 AM, DJ of The Root Box Radio Show
The new song is currently available on iTunes, Amazon and CDBaby.  The track is included on the forthcoming CD from Restine Jackson called I'm Free.  Scheduled to drop in the fall, the project will be the artist's fourth release on Wondrous World Records, a label his late father started in 1998.  The label is planning to expand and part of that expansion is a debut release of a new group, Whitney Curry & Anointed.  Curry, an impressive vocalist and songwriter and the sister of Restine, will drop the project, Come Fill This House, on August 18th.  More releases are coming down the pike for Wondrous World Records.