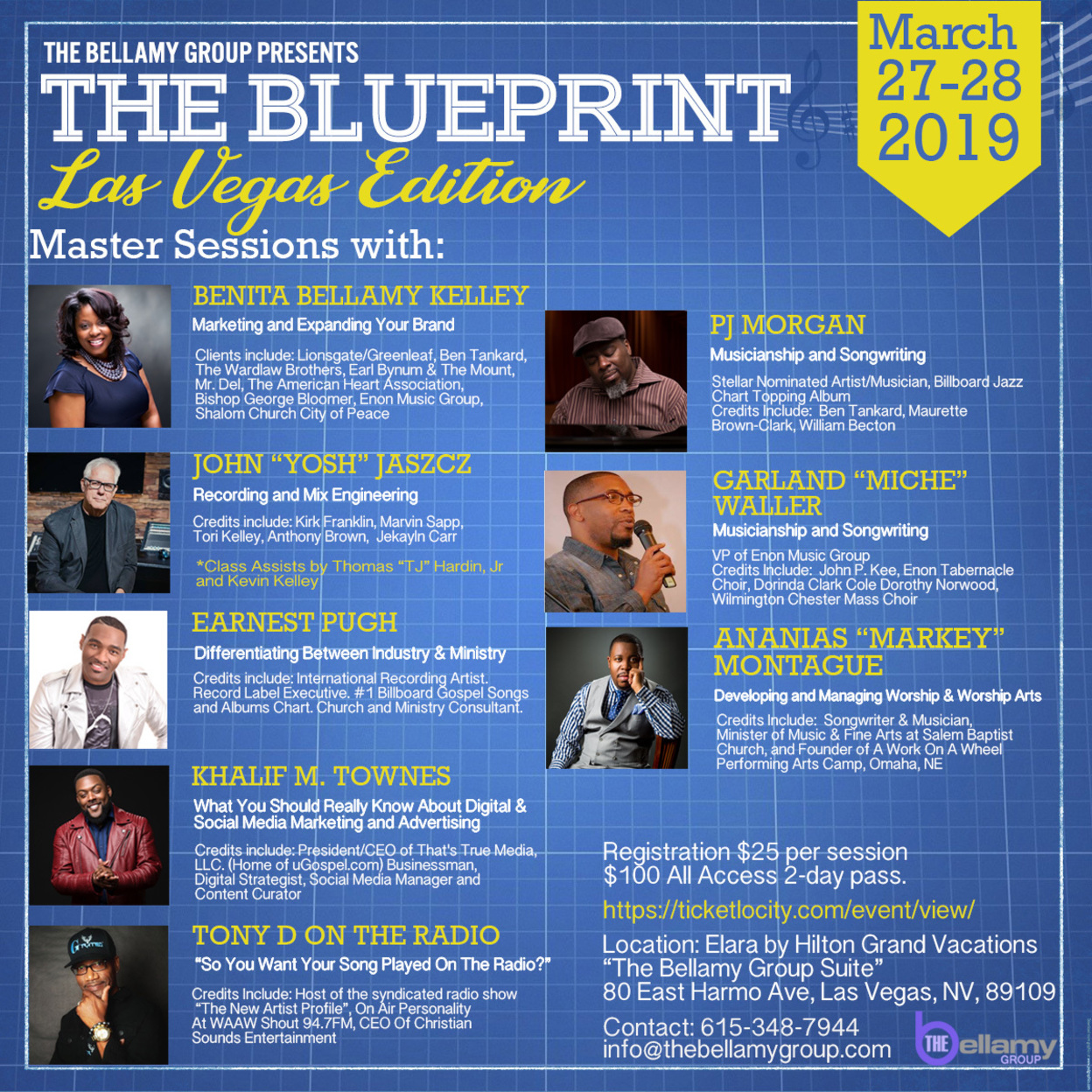 The Bellamy Group Marketing Agency in Nashville, TN launched a series of Music Business and Ministry seminars called THE BLUEPRINT in 2017.  This brilliant, hands-on music education series covers topics from Songwriting and Publishing to Church Security and Worship Arts Administration and, from Digital Music Marketing to Studio Engineering and Production.  THE BLUEPRINT is now headed to Las Vegas, NV on March 27-28 for a special two-day Master Sessions Edition with Gospel music's most decorated executives and creatives taking the instructors chair.
The LAS VEGAS Edition of THE BLUEPRINT will be held from 1:00PM – 4:30PM on Wednesday, March 27 and from 9:30AM-2:00PM on Thursday, March 28 at the Elara by Hilton Grand Vacation, 80 East Harmon Ave, Las Vegas, NV 89109 in "The Bellamy Group Suite".
An exciting addition to this years session is multiple award-winning mix engineer John "Yosh" Jaszcz.  John is one of music's most decorated mix engineers (Kirk Franklin, Fred Hammond, Tori Kelly, Andrae' Crouch, Sonic Flood, CeCe Winans, Billy Ray Cyrus, John Michael Montgomery, Travis Green).  His master session will involve a hands-on Pro Tools experience dissecting a song from the actual mix session of a popular gospel artist.  This incredible studio experience will also include the producer of the song Thomas "TJ" Hardin who, alongside "Yosh" will take attendees inside the session and inside the song.
This years brilliant line-up of Master Instructors include Tony D On The Radio (Music Director at WAAW Shout 94.7), Benita Bellamy Kelley (CEO of The Bellamy Group), PJ Morgan (Stellar Nominated Musician), John "Yosh" Jaszcz (Multiple Award-Winning Mix Engineer), Ananias "Markey" Montague (Minister of Worship Arts, Salem Baptist Church), Dr. Earnest Pugh (Billboard Chart Topping Artist), Khalif Townes (Digital Strategist/Content Curator, That's True Media),  and Garland "Miche" Waller (Musician, VP of Enon Music Group).  
Registration is now open via Ticketlocity.com   $25 per session or $100 for a 2-day All-access pass.   TheBlueprint.Ticketlocity.com.  For more info, contact: [email protected]  
The Blueprint: Las Vegas Edition "Master Sessions" Instructors:
BENITA BELLAMY KELLEY
"MARKETING AND EXPANDING YOUR BRAND"
Benita Bellamy Kelley is The Bellamy Group's Founder and CEO and The Blueprint visionary.  She is a Stellar Nominated Creative and multi-award winning marketer and manager who has Grammy, Dove, Stellar, Soultrain and NAACP Image Award-nominated and winning artists as clients.
Over the last year, Benita and her #TeamBellamyGroup have helped Ben Tankard, Robert E. Person and PJ Morgan land on the Top Billboard Jazz Albums and Singles charts, lead the popular Wardlaw Brothers to a #1 Billboard Gospel Album (STAND THERE) and a 2019 Stellar Award Nomination for Quartet of the Year, and has promoted and marketed the Season 3 Soundtrack from the GREENLEAF drama series airing on the OWN TV Network. The GREENLEAF SEASON 3 Soundtrack (Lionsgate Music) features Patti LaBelle and Deborah Joy Winans on the Top 30 Gospel Radio Single "Changed", and is nominated for a 2019 NAACP Image Award for Outstanding Soundtrack and a 2019 Steeple Award for Best Collaboration Performance ("Changed").
JOHN "YOSH" JASZCZ
"RECORDING AND MIX ENGINEERING" 
From his Detroit R&B roots with Bootsy Collins, Parliament/Funkadelic, George Clinton, and Zapp, John Jaszcz has used his renowned skills and unique sound to establish himself as a world-class mixing engineer. Through his early work with Gospel great Fred Hammond and the legendary Thomas Whitfield, he had the opportunity to move to Music City and work with such artists as Billy Ray Cyrus, and have multi-platinum success with John Michael Montgomery.  2019 is off to a great start with projects from Kirk Franklin, Travis Greene, Vashawn Mitchell, Deon Kipping, Isaac Carree, Jon Reddick, and the pop-country group McGuire. Yosh had three nominations at the 2019 Grammy Awards for projects with Jekalyn Carr and Tori Kelly.
DR. EARNEST PUGH
"DIFFERENTIATING BETWEEN INDUSTRY & MINISTRY"

Dr. Pugh has released an impressive 10 albums to date with over ten Top 30 Billboard Singles.  His successful record label, acclaimed music artistry, dynamic ministry and, humanitarian efforts have earned Dr. Earnest Pugh the title of Gospel's Leading Man.
He has received a Master of Divinity and Doctorate of Ministry from the Howard University School of Divinity, and an honorary Ph.D. in Theology from The Institute of Teaching God's Word (Rockdale, Texas).  He has served as a Worship leader for over two decades and is a veteran of the U.S. Army having served over 20 years in the military.
KHALIF M. TOWNES
"WHAT YOU SHOULD REALLY KNOW ABOUT DIGITAL & SOCIAL MEDIA MARKETING AND ADVERTISING"
Khalif is a Businessman, Digital Strategist, Social Media Manager and Content Curator who specializes in online marketing and media services for both the faith-based consumer and mainstream urban entertainment audience. Townes is President/CEO of That's True Media, LLC. (formally Urban Roundup Group, LLC.).  His uGospel.com – the flagship website under That's True Media, LLC is currently the no. 1 online site/entertainment blog in the faith-based/gospel music genre. The site also features uGospel Radio, a digital streaming platform nominated for a Stellar Gospel Award for Internet Radio Station of the Year.
PJ MORGAN
"MUSICIANSHIP AND SONGWRITING"
PJ Morgan is best known as the Organist's organist.  He has appeared on almost twenty albums by artists such as Dorothy Norwood, Ben Tankard, William Becton, Desmond Pringle, Maurette Brown-Clark as a producer, songwriter, arranger, programmer, or musician.  PJ is currently the band director at Reid Temple AME, one of the largest mega churches in the U.S. with over 20,000 members in Washington, DC and teaches Composition and Theory at The Duke Ellington School of the Arts.
GARLAND "MICHE" WALLER
"MUSICIANSHIP AND SONGWRITING"
Garland Waller, better known as "Miche," is widely known as the talented musician and producer for Pastor John P. Kee for 25 years. Miche has played, written, and produced for many award-winning artists including Enon Tabernacle Choir, Dorinda Clark-Cole, Dorothy Norwood, and the Wilmington Chester Mass Choir. He is currently the Vice President of Enon Music Group in Philadelphia, PA.
TONY D ON THE RADIO
"SO YOU WANT YOUR SONG PLAYED ON THE RADIO"
Tony D is the CEO of Christian Sounds Entertainment and is currently an on-air personality at WAAW Shout 94.7 FM in Aiken S.C.  Through his "New Artist Profile" radio show, he continues to introduce his listening audience to the best independent and emerging Gospel artists.  "The New Artist Profile" motto is "If Your Radio Is Not Playing The New Artist Profile, Then Your Radio Is Not Really On".
ANANIAS "MARKEY" MONTAGUE
"DEVELOPING AND MANAGING WORSHIP & WORSHIP ARTS"

Chicago native Ananias "Markey" Montague is a creative virtuoso who has composed over 20 original compositions as the producer for the historic Salem Baptist Church annual production "The Resurrection" (2010- 2015) and has written original songs recorded by The Gospel Music Workshop of America and The Walter and Edwin Hawkins Seminar. Markey has collaborated with Gospel's most notables Richard Smallwood, Andrae' Crouch, Ricky Dillard, and Ted Winn. He is also a proven leader in arts education and organizational staff training.  Ananias is the founder of A WORK ON A WHEEL Summer Performing Arts Camp in Omaha, NE and he conducts worship and worship administration sessions around the country.