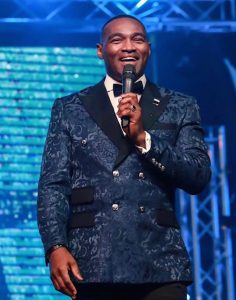 Gospel's leading man Earnest Pugh took to Instagram yesterday to express heartfelt gratitude and appreciation upon finding out that his song was used in an episode of the CBS sitcom The Neighborhood starring Cedric The Entertainer and Tichina Arnold.  Pugh's Shondoe praise break was used in the church scene where Tichina Arnold's character visits her church on Sunday and praises God in an exuberant shout.
The track is taken from Pugh's 2008 Billboard Chart Topping CD  "Rain On Us." produced by Michael Bereal.
According to Pugh "I started getting calls from around the country congratulating me on the hilarious episode so  my team and I pulled it up on demand to watch. We must have watched it 12 times back to back with tears of laugher each time!  Cedric and Tichina are two of the best to ever do comedy so this is a great honor."  President of EPM Music Group Keith Williams commented,  "When we recorded "Shondoe" in 2008, we had no idea that it would end up in a church scene on a national sitcom, but at the same time it has always been our goal to push Earnest Pugh's music beyond the four walls of the church.
Pugh received news last month that one of his songs, Trade It All, written by Lucius Hoskins was used in the recent BET Her movie His, Hers and The Truth.  The song comes from Pugh's Survive CD.
Pugh fans are eagerly anticipating the imminent release  of his 12th disc, The Outpour Experience on May 22nd.  The disc features the Easter anthem Grateful as well as the top 15 radio single God Wants To Heal You that continues to make impact across the nation and internationally.