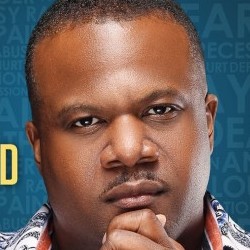 New Orleans based new traditional gospel artist Bishop Samuel R. Blakes released his debut album, I SURVIVED (On Top Music Group/Fountain of Life Records/Central South Distribution) available in stores and online via iTunes, Amazon and Google Play now.
Blakes – the Senior Pastor of New Orleans and Baton Rouge's revered New Home Ministries – is earning his fair share of acclaim with the Top-40 radio single, "God Wants To Hear From You" (currently #34 on Billboard's BDS Gospel Airplay chart). The song's moving lyrics that tell of God's longing to connect with His children is conquering hearts with its impassioned vocal performance and organ-lined melody.
Produced by storied producer Pharis Evans, Jr., (The Williams Brothers, Stevie Wonder, Yolanda Adams, Kelly Price), I SURVIVED features a myriad of collaborations including, "He Is God" and "Get Over It" featuring the late Pastor Robert C. Blakes, Sr., (Bishop Blakes father), "Scars" featuring Gospel living legend Bishop Paul S. Morton, Sr.,"Things Will Work Out" featuring R&B crooner Dave Hollister, "I Need You" featuring Bishop Neal Roberson, "He Is God" featuring Titus Showers (of The Showers Family Group), and Blakes' brother Pastor Robert C. Blakes, Jr., on "That's When I'll Make It."
Bishop Samuel R. Blakes is a visionary, spiritual leader, teacher, and all around gospel force appointed to carry on the mission of a lineage of spiritual warriors.