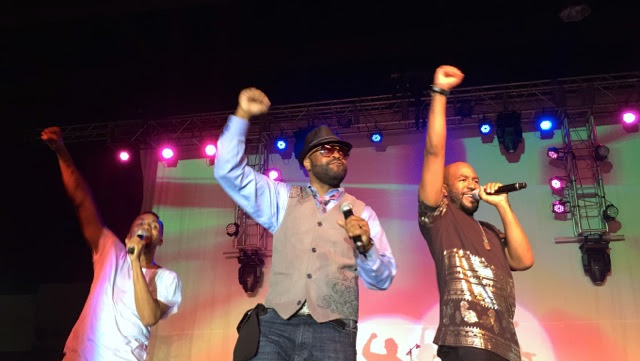 This weekend V-103/WAOK hosted their 23rd annual For Sisters Only event at the Georgia World Congress Center. FSO is an indoor festival featuring celebrities, products, health, beauty, workshops and more. The event allows Atlanta to get up-close and personal with it's favorite radio stations and personalities. Attendees enjoyed the 411 Recharge Zone, Wellness Pavilion, V103 Kids Zone and Autograph Zone. This year the Seminar Stage featured Keisha Knight Pulliam, a Powerade Women and Wellness Panel, the Battle of the Sexes hosted by Michael Baisden, Chef G. Garvin interactive cooking show and Michael Baisden's play Men Cry in The Dark .
The Music Stage was rocking with performances from Isaac Carree, Lyfe Jennings,Jazmine Sullivan, Pastor Troy, Raheem The Dream, J Moss, Tasha Page-Lockhart and surprise performances from host LL Cool J, Keyshia Cole, and Tamar Braxton.
On Sunday, October 12, 2014, J Moss & 21:03 were welcomed by the ministries of Word of Faith Family Cathedral (Bishop Dale Bronner) and Greater Travelers Rest (House of Hope/Pastor E. Dewey Smith). The gospel music trailblazing artists performed a medley of their chart-topping hits and current radio singles.
J Moss' current single, "Alright OK" is available for purchase on iTunes now and his new project, "Grown Folks Gospel" will be available this fall. 21:03's new single, "A Friend" is available for purchase on iTunes now and new music from the duo will be available this fall.
Keep us with J Moss on #JNationTV via his Facebook, to gain exclusive behind the scenes action in his life, in-depth interviews and more.