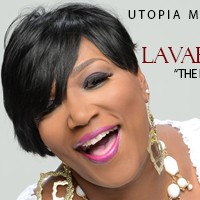 Bishop Larry Trotter and Utopia Music Group are excited about their new artist, Lady LaVarnga Hubbard and the latest release of her new single "I Got Better Coming".
Lady LaVarnga Hubbard, is no stranger to singing the praises of God and her powerful voice has graced several National Gospel Artists' projects, including, Chicago Mass Choir, Ricky Dillard & New G, Bishop Larry Trotter & The Sweet Holy Spirit Church Choir and Dexter Walker & Zion Movement.
Utopia Music Group's founder and CEO, Bishop Larry Trotter is excited about Lady LaVarnga Hubbard's new single and helping to share her music with supporters of Gospel Music.
Hubbard is a native of Chicago, IL and has ministered on the national and international scene. While touring in Europe, Lady LaVarnga's ministry afforded her the opportunity to be affectionately crowned the "The Duchess of Gospel Music" and her music continues to bless others around the world.
This vocal powerhouse has served up traditional Gospel at its best with her new single, "I've Got Better Coming" and listeners will instantly be encouraged with the lyrics, "I know that Jesus will brighten my way, I know that I have better coming my way. Can't you see it, better is on its way, Can't you feel it, better is on its way."
Lady LaVarnga Hubbards's new single, "I Got Better Coming" is a powerful testimony of believing God no matter how the situation looks.
"I Got Better Coming" is laced with traditional gospel musical riffs, coupled with resilient harmonious choir vocals. Lady LaVarnga leads this musical team with conviction and confidence in knowing who God is and His promises.
Lady LaVarnga Hubbard is one of Gospel Music's shining vocalists with a heart for ministry and sharing God's message through music. "I Got Better Coming" is available on iTunes and other online digital retailers.