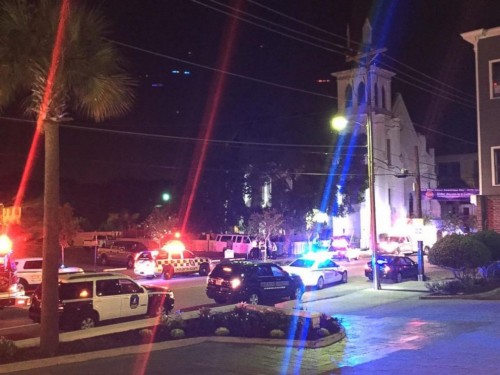 We are sad to report a mass shooting last night at an AME church in Charleston, South Carolina, in which nine people were killed. The cruel act of violence took place in the evening during a prayer service at Emanuel African Methodist Episcopal (AME) Church. The gunman is described as a young white male, who is still at large and considered armed and dangerous.
Below are details of the tragic incident provided by ABCnews.com:
Nine people were killed in an "unfathomable" act of violence at a historic predominantly black Charleston, South Carolina, church, Emanuel African Methodist Episcopal (AME) Church, Wednesday evening when a gunman opened fire during a prayer service in what police describe as a "hate crime."

Charleston police Chief Greg Mullen said eight people were found dead inside the church. Two other people were rushed to the hospital, where one died, making it the deadliest mass shooting in the United States since 12 people were killed inside the Washington Navy Yard in September 2013.

"It is senseless," Mullen said at a news conference Wednesday evening. "It is unfathomable that somebody would walk into a church when people are having a prayer meeting and take their lives."

Mullen added that the city will be offering a reward for information about the suspect but the amount will be set later in the day.

Investigators believe that "as far as we know right now" there was only one suspect in the shooting, which unfolded around 9 p.m. Wednesday, but they consider him to be armed and "extremely" dangerous.

Officials described him as a 21-year-old white man with sandy-blond hair and a slender build wearing a gray hoodie, blue jeans and Timberland boots.