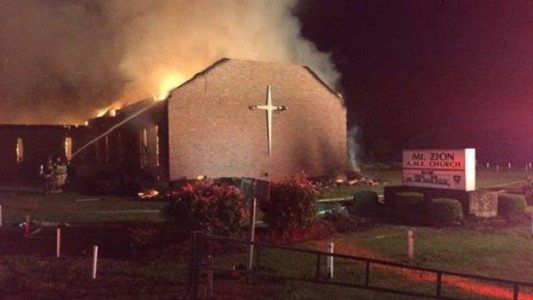 We must truly be at the end of our days, as another black church was set ablaze earlier this week. Becoming the eight church in the past 10 days to catch fire, Mount Zion African Methodist Episcopal Church in Greeleyville, South Carolina went up in flames late Tuesday night. However, that wasn't the first time this prominent church was targeted by what many speculate as a racially-fueled attack. Mount Zion was burned to the ground by the KKK in 1995, part of a string of 30 fires in black churches that spanned two years.
Parishioners across the South are surveying the damage that a string of similar fires has caused this week, the Southern Poverty Law Center reports, starting in Knoxville, Tenn., on June 21 and moving to Macon, Ga., and Gibson County, in Tennessee, on June 23; Charlotte, N.C., on June 24; Elyria, Ohio, on June 25; and Tallahassee, Fla., and Warrenville, S.C., on June 26.
Three of those fires have been ruled arson, one was determined to be caused by a falling branch and faulty wiring, and the others remain under investigation. Several have been blamed preliminarily on lightning; weather in the South this week has been turbulent.
State senator Cezar McKnight was on the scene as the fire continued to burn at 10 p.m. "South Carolina has been through a lot the last two weeks, and we've made the best of a terrible situation," he said. "I would hate for this to be something somebody did on purpose to try to poison the love and fellowship."