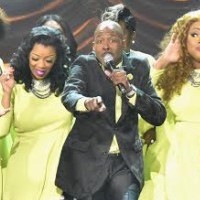 Inimitable choir master Ricky Dillard received four Stellar Gospel Music Awards during this past weekend's taping in Las Vegas. Nominated in 10 categories, Dillard took home trophies for Traditional CD of the Year; Choir of the Year; Traditional Choir of the Year and Song of the Year.
Additionally, as part of the Stellar Gospel Music Awards' 30th Anniversary, the "Stellars Honors" were presented for the first time. Dillard was among the inaugural 10 luminaries presented with a custom "Stellars Honors" medallion for 30 years of achievement and support of Gospel music. The first Stellars Honor inductees also included President Barack Obama.
These commendations cement a landmark season for Dillard, whose ninth album – AMAZING – marked the 25th anniversary of his choir and launched the most played song at Gospel radio this decade, the title track "Amazing".
"This weekend was overwhelmingly amazing – no pun attended. I am seeing how truly awesome God is. I've known God to be amazing all of my career, but this season He is really showing, to the 50th power, how great He really is. This year has been excellent and exuberant and over the top. It has been mind blowing to be celebrated by peers and industry constituents. I am so grateful for this moment," says Ricky Dillard.
Ricky Dillard & New G was the closing performance of the 30th Anniversary taping of the Stellar Gospel Music Awards. In signature vibrant fashion, the group had the crowd on its feet with a kinetic medley of hits that included "Holy Place," "Take Me Back," and "The Light" as well as the new single "Grace."
"I wanted to bring something fresh to the stage as well as show consistency," says Dillard of the energetic performance that included a sanctified Soul Train line. "I always want the closing to memorable and fun. I want to kiss God on the cheek for His amazing grace. During the Stellar Awards' 30 years I have been welcomed on their stage many times, so I also wanted to walk down memory lane and commemorate the times that Ricky Dillard & New G has appeared on the show."
Ricky Dillard's new single "Grace" is currently heating up at radio as he and New G prepare for the McDonald's Inspiration Celebration Gospel Tour that kicks off May 13 in Detroit.
The 2015 Stellar Gospel Music Awards will be broadcast April 5th on TV ONE.