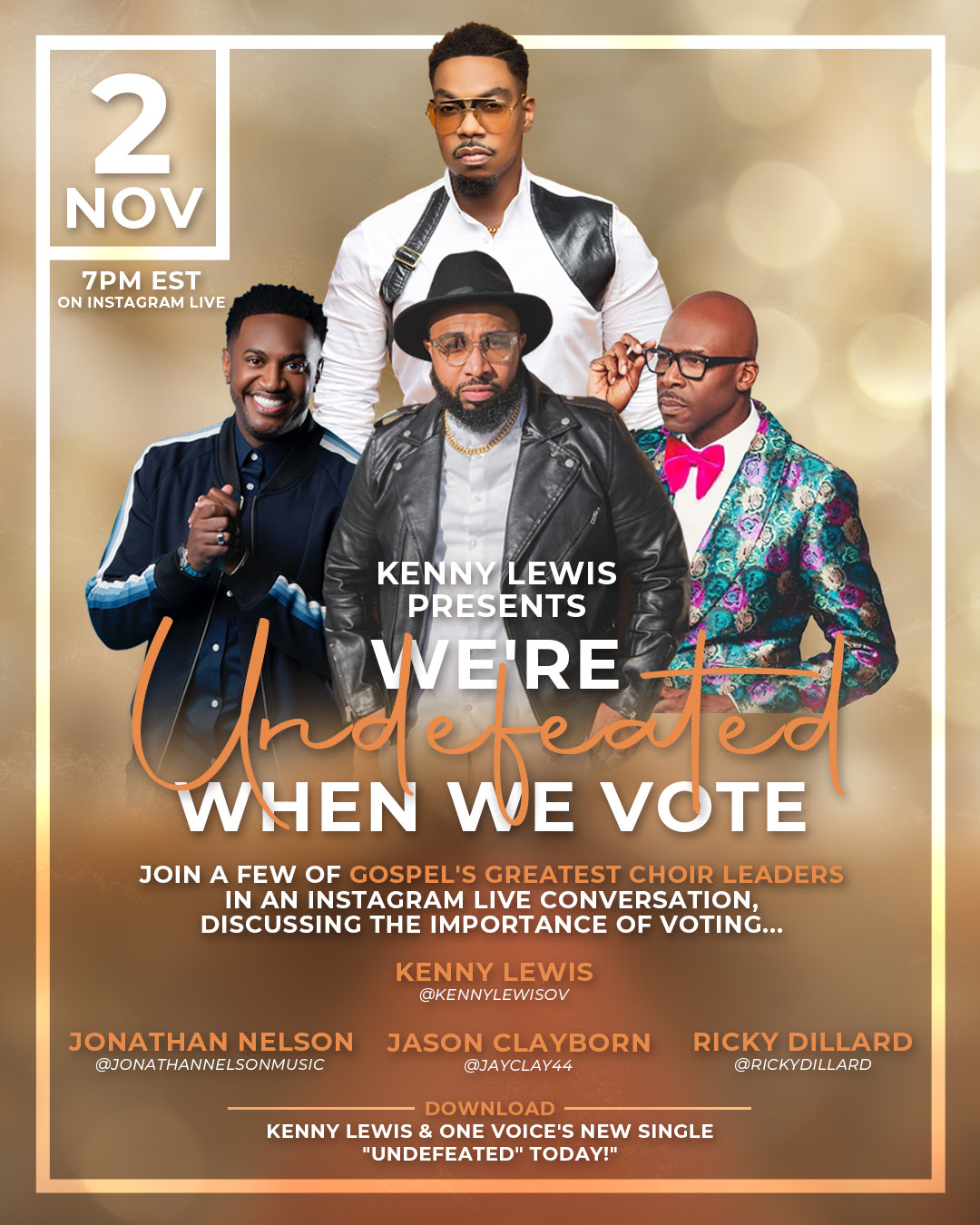 Gospel music veteran, Kenny Lewis (of Kenny Lewis & One Voice) will be encouraging people to vote on an Instagram Live voter rally set to take place Monday, November 2, 2020 at 7pm EST. For this conversation he has also joined forces with other gospel choir leaders including the Grammy-nominated writer/producer/psalmist Jason Clayborn ("Better"), Stellar Award winner Jonathan Nelson ("My Name is Victory"), and Grammy-nominated "Choirmaster" Ricky Dillard ("Amazing").
The rally's title, "We're Undefeated When We Vote" is inspired by Kenny Lewis & One Voice's latest single, "Undefeated". The song, "Undefeated", is currently available to be downloaded or streamed on all major streaming platforms and is the leading song from the upcoming album with the same title, "Undefeated", that will be available for pre-orders Friday, October 30.
About Kenny Lewis & One Voice
Kenny Lewis released his first national project in 2000 entitled "The Bridge" on Marxan/Malaco Records which featured the smash hit "Yes". This project opened doors for him to travel the nation and share the stage with Gospel giants such as Albertina Walker, Tye Tribbett, Mary Mary, Dorinda Clark- Cole and Karen Clark-Sheard just to name a few.
In 2017, Kenny released the album "Refocus". Refocus was another success for Lewis on Billboard Top Gospel Albums and Top Gospel Sales charts. He released two singles from the album: "Love Song" and "Thank You". Both singles charted on Billboard Gospel Airplay chart and garnered more global attention for the group. "Refocus" generated over 1.5 million audio and video streams, truly exemplifying his level of influence within the gospel music industry.