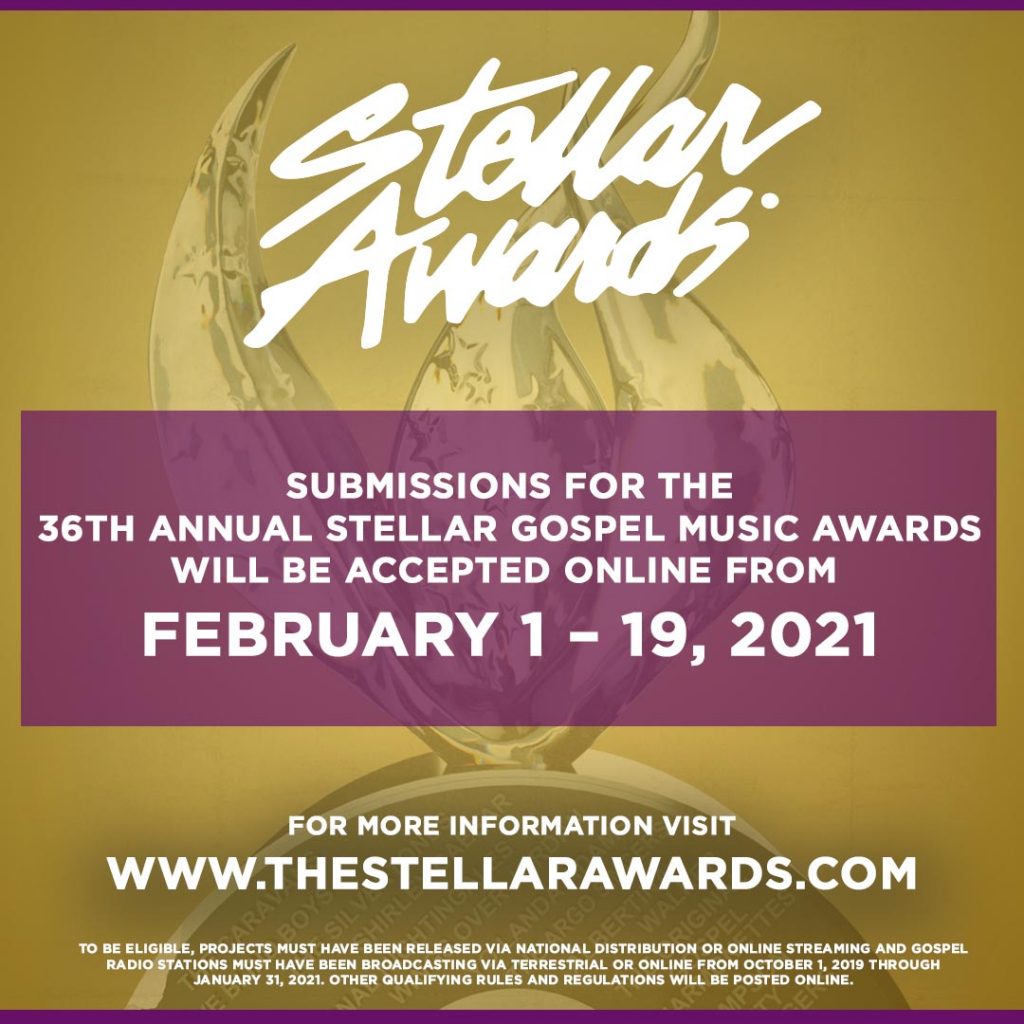 Today, Central City Productions, Inc. released  a Call for Entries for the 36th Annual Stellar Gospel Music Awards. Submissions  will be accepted online from February 1 – 19, 2021. To be eligible, projects must  have been released via national distribution or online streaming and Gospel radio  stations must have been broadcasting via terrestrial or online from OCTOBER 1,  2019 THROUGH JANUARY 31, 2021. Other qualifying rules and regulations will  be posted online.  
Additionally, a timeline of important dates leading up to the Stellar Awards television  broadcast was released. Nominations for the 36th Annual Stellar Gospel Music  Awards will be announced on April 27, 2021. Additional key dates include: 
Monday, February 1 – Online submissions open 
Friday, February 19 – Online submissions close and all product due Friday, March 5 – Nominating committee determines qualified submissions Saturday, March 13 – SAGMA online voting on 1st ballot begins Saturday, March 27 – SAGMA online voting ends 
Monday, April 5 – Public online voting on 2nd and final ballot begins Monday, April 19 – Public online voting on 2nd and final ballot ends Tuesday, April 27 – Nominee Announcement PR and Radio Tour 
July 2021 – 36th Annual Stellar Awards production (exact dates to be announced mid February)
The 36th Annual Stellar Awards will air via National Broadcast Syndication and  Cable during the window of July 30 – September 5, 2021. 
Forthcoming details about the 36th Annual Stellar Awards taping, performers, and  special honorees will be released at a later date. For all information and the latest  news, visit the Stellar Awards website at www.stellarawards.com 
The Stellar Gospel Music Awards is hailed as the 'Greatest Night of Gospel Music,'  and recognizes the year's best performances in the genre, honors Gospel music  icons and acknowledges the accomplishments of individuals instrumental in  advocating for the industry.