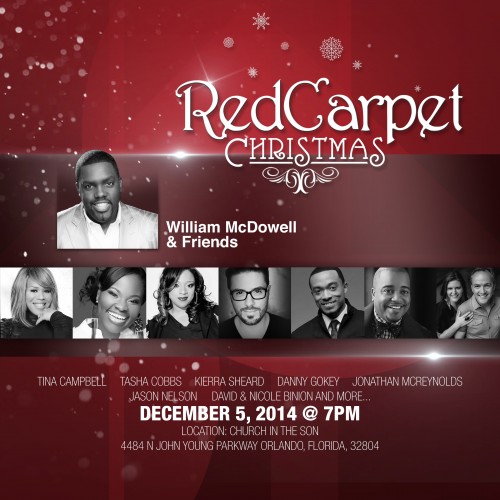 On Friday, December 5, 2014, Orlando-based pastor and worship artist, William McDowell, is set to host the 3rd annual 'Red Carpet Christmas', a free concert and live recording to benefit Feeding Children Everywhere. The event hopes to raise enough money to donate 100,000 meals to the charity that empowers and mobilizes communities to provide healthy meals to children locally and abroad.
"This year we are partnering with a great local organization with a national and international reach," said McDowell. "Feeding Children Everywhere allows us to partner both financially and through physical servicing to provide for the needs of those around this nation and the world."
Confirmed guest to attend 'Red Carpet Christmas' are top Gospel and Christian artists Tina Campbell (of Mary Mary), Tasha Cobbs, Kierra Sheard, Danny Gokey, Jason Nelson, Jonathan McReynolds, Brian Courtney Wilson, David & Nicole Binion, Pastor John Gray and more.
This special concert will be exclusively televised on The WORD Network, December 26th at 8pm ET/7pm CST/5pm PT. The WORD Network is available in approximately 200 countries, spanning four continents, and reaches over 95 million homes across the world. As an added bonus, McDowell to also record an all-new song "Send The Rain," at the all-star concert.