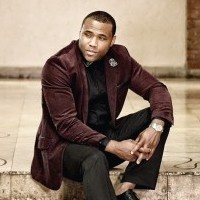 New Urban Inspirational recording artist Trinity Dawson's Top-40 radio single "Not That Easy" from his forthcoming fall 2015 album release WITH ALL I AM is the No. 1 most added song at Gospel radio. "Not That Easy" – a collaboration with Grammy-nominated songwriter Aaron Sledge – is quickly approaching New & Active sitting at #38 on Billboard's BDS Gospel radio chart this week.
Trinity Dawson's music ministry is growing exponentially. This week, he is performing at the Gospel Music Workshop of America (July 29, New Orleans); Atlanta Live TV (August 10); Black Family Reunion (August 16, Cincinnati); and Urban Soul Cafe (August 20, Dallas).
"Not That Easy" which is an encouraging and uplifting song that talks about being steadfast and unbreakable during tough situations, and connects with listeners from all walks of life, is available for digital download now via iTunes, CD Baby and Google Play.