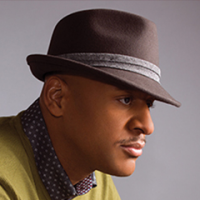 In just five years, Wilson's singular tenor and community-minded ministry—the uplifting forces behind such hits as "All I Need" and "Already Here"—has won the humble artist a growing host of fans and critical acclaim as both a Stellar Award winner and Dove Award nominee. Now as the newest member of the Motown Gospel family, Wilson brings the full measure of his singing and songwriting talent to center stage on his first live album, Worth Fighting For.
Produced by Motown Gospel VP of A&R Aaron Lindsey and recorded at St. John's United Methodist Church in Houston, Worth Fighting For overflows with spirit and emotion. Accompanied by a fresh, colorful mix of contemporary R&B, gospel, rock, folk and spoken word, Wilson's melodic tenor passionately expresses joy, love, self-doubt, grace, empowerment, victory and—above all—inspiration.
Now Motown Gospel's newest family member is ready to start the next chapter in his burgeoning career. "I love how real this album sounds," says Wilson. "And that's one of the things I pray for: to create a great catalog of music that people can lean on in good—and tough—times."
Click here for a snippet from Worth Fighting For. The new album will be in stores Tuesday, January 6, 2015!