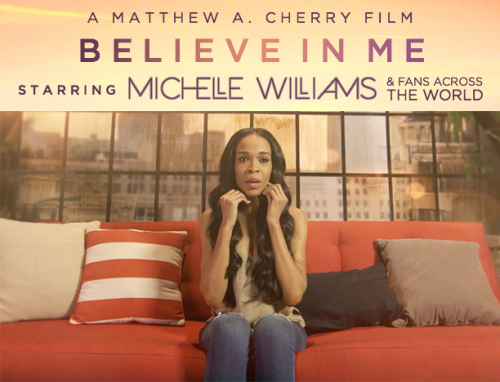 Grammy® winning singer, songwriter and actress Michelle Williams is releasing an inspiring new video for her latest single "Believe in Me," with VH1 Soul exclusively premiering the music video on Wednesday April 29th.  In addition to debuting her new video this week, Williams also made a return appearance for a second week to "The Meredith Vieira Show" on Tuesday April 28th, and appears on "Essence Live" on Thursday April 30th.
An empowering guitar-driven ballad from her hit album Journey to Freedom, Williams' acclaimed voice soars on "Believe in Me," offering a journey of thoughtful contemplation on the Harmony Samuels-produced track.  For the "Believe in Me" video, Williams teamed up again with director Matthew Cherry, who also directed the Stellar Award-winning music video for her hit single "Say Yes" (feat. Beyoncé and Kelly Rowland).
Michelle Williams also recently performed "Say Yes" in a celebration honoring gospel music's rich history, hosted at the White House.  Her performance will air on "The Gospel Tradition: In Performance at the White House," which is scheduled to air on PBS and TV One on Friday June 26th.