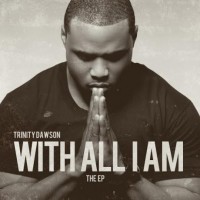 Making a well-received dash from playbooks to songbooks, football star turned singer/songwriter/producer Trinity Dawson has become one of gospel's most promising new acts for his refreshing take on the fusion of Urban and Inspirational to craft a sound all his own. Combining sounds from a melting pot of influences – from Israel Houghton and Fred Hammond to Stevie Wonder, John Legend, and Jill Scott, Dawson has lifted the veil on an innovative approach to contemporary gospel – as evidenced by his latest single "Just Be With Me," available now on iTunes.
Ringing with thunderous drums and a simple, yet memorable chorus that pleas for God's inclusion in his daily life, the song was launched from his critically acclaimed debut WITH ALL I AM – THE EP. Kept company by an equally impressive tracklist of moving tunes like "You're All I Need" and "I'll Wait," "Just Be With Me" comes as music lovers' official introduction to his unique quest to musical ministry – a greeting set to be extended once the multi-talented singer unveils his full-length debut LP due summer 2015.
Though first gaining buzz in the music realm singing background for some of music's most prized acts including Ledisi, Micah Stampley, and more, Dawson is no stranger to the national spotlight as his first taste of notoriety came via acclaim received while playing Division I football for the University of Toledo. Yet, while NFL glory is no longer in the former running back's sights, Trinity shares that he now has his eyes on a glory more important than his own.
"Purpose is not one-dimensional; but, when surrendered to God, every aspect of who I am is for His glory," said Dawson. Now, with music as his key, Trinity Dawson is ready to unlock doors to even higher heights in his ministry and is inviting everyone along for the ride.