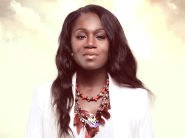 Gifted vocalist and worship leader Denise Renee has an uncanny ability to bring the presence of God into the atmosphere.  That fact is apparent on the Dreambridge Recording Artist's new heartfelt worship anthem, "More Of You".  The stunning ballad, beautifully executed by the psalmist, is hitting Gospel radio and currently available on iTunes.
"I believe that this is the right time for this new record, 'More Of You'", said Denise Renee.  "A few years ago, I found myself in a place where I wanted more of God.  I pushed myself in praying and fasting and seeking Him more diligently.  I disconnected myself from things that were distancing me from Him.  Now I am in a deeper place in God and I am more confident about the ministry He has given me.  I have seen that if we seek more of Him, He will lead us.  He will tell us what we need to know; He will guide us. That's what this record is all about," shares Denise.
As a former background vocalist for multiple GRAMMY Award Winner Alicia Keys, Denise shared the stage with renowned mainstream artists such as Quincy Jones, Paul Simon, Stevie Wonder, Lenny Kravitz, Carlos Santana, John Mayer, Usher and dozens of other legendary artists.  Her breathtaking vocals can be heard on Keys' albums, The Diary of Alicia Keys and MTV Unplugged and on John Legend's Wake Up.  Denise has also been seen on national television shows such as Ellen, Oprah, The David Letterman Show, The Jay Leno Show, the GRAMMY Awards, The MTV Awards, The Billboard Music Awards and others.  In addition, Denise Renee is an actress and has been featured in local plays in her hometown of New Haven, Connecticut.
Like many gifted singers, Denise honed her gifts within the walls of her church, Greater Apostolic Love & Faith Tabernacle.  She began singing at the tender age of 3 and took to the drums shortly thereafter.  She played and belted out songs week after week at church until a connection with a fellow singer opened up a door to sing background vocals for Alicia Keys.  The dream job saw her traveling the world from 2003-2006.  Although Denise greatly appreciated the opportunities being a background vocalist offered her, she could not ignore the calling of the Lord on her life and in 2005, she walked away from a life of fame to dedicate her musical gifts entirely to God.
"At that time, I knew I was called to ministry," recounts Denise.  "I was a little hesitant in stepping out, but I knew that God wanted me to pursue my own singing career as a Gospel artist.  Everything that God has called me to is starting to manifest – especially with the new single, 'More Of You' and the upcoming CD, Awakened."
The new Dreambridge Recordings Artist is excited about her upcoming project slated for a fall release.  Distributed by Entertainment One, Dreambridge was founded by recording artist Armar'rae Hill. The label focuses on signing artists with an authentic approach. Dreambridge creates partnerships to empower and assist in the development of the artists for a worldwide platform. With a roster of top Billboard charting artists such as Eddie James, Kenny Lewis & One Voice, and G.I., the company progresses in Kingdom-building and focuses on successful business models, while setting new standards in the ever-changing music industry.  For more information on Denise Renee, log on to www.iamdeniserenee.com.  Connect with Dreambridge Recordings at www.instagram.com/dreambridgerecords.