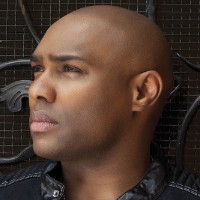 During the early years of his music career, International Gospel Artist, Anthony Faulkner was fortunate to share his testimony of faith and redemption on several National Television networks, including TBN. While on TBN, he received a prophecy from Prophet Gary Zamora, which encouraged him to continue speaking of God's faithfulness in his life.
Since then, Anthony has been going non-stop sharing God's message through music and on Wednesday, June 17th, this International Gospel artist will head to Norfolk, VA to speak on his story and more with Emmy Award Nominee, Efrem Graham during interviews on the 700 Club and CBN News on the CBN Network.
National media coverage will continue for Anthony Faulkner on Thursday, June 18th, with an interview with Muyiwa Olawareju on the hit show "Turning Point".  The "Turning Point" show reaches an estimated global audience of 70 million.
As a special fashion treat, Anthony will be styled all week, by New York's own, celebrity stylist, Troy Clinton with TC Styles. Anthony is grateful for these opportunities to share Jesus with the world and invites others to join him in Lifting the Name of Jesus!
Anthony Faulkner's new single "I Trust You" is available on iTunes and other digital retailer.