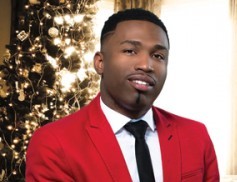 Gospel's Leading Man and balladeer extraordinaire Earnest Pugh (of "I Need Your Glory" and "Rain On Us" fame) is continuing his longstanding practice of introducing new acts to the gospel music industry with the release of "Christmas with John Paul" (EPM Music Group) on December 2nd. The five-song extended play CD showcases the classically trained pianist John Paul McGee tackling yuletide evergreens such as Nat King Cole Trio's 1946 gem "The Christmas Song" with a touch of Jazz and gospel.
"It is often said that a picture is worth a thousand words," says the Bethune-Cookman University graduate of the set that also features crisp new renditions of "Oh Holy Night," "The First Noel," "Sweet Little Jesus Boy" and a funky "Jesus, What A Wonderful Child." McGee will be joining Earnest Pugh and other artists on a nationwide Christmas concert tour. "I am so excited to have this opportunity as an instrumental artist to paint wordless pictures through the mere power of sound. Listeners can experience the joy, peace, healing and love that come at Christmas time. As we celebrate the birth of Christ, I also celebrate this season of birthing in my own life where God is transitioning me to have even greater impact on lives everywhere through my musical gifts."
Currently a graduate student at Atlanta's Emory University and in hot pursuit of a doctorate in Religious Studies, McGee is a young man with a seasoned musical resume. Aside from composing songs on albums by Bishop T.D. Jakes and Alvin Darling & Celebration; he's also created vocal arrangements for recorded projects by such traditional gospel music mainstays as the Arkansas Gospel Mass Choir, Youth for Christ, Troy Sneed, Bishop Bruce Parham and Rev. Rudolph McKissick. McGee has also shared stages with the likes of Patti Labelle, The Isley Brothers and The Clark Sisters.