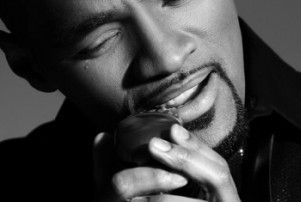 Dove and Stellar Award nominated gospel crooner Earnest Pugh just wrapped up his co-starring role stint alongside Vivica A. Fox and Reginald Ballard in Mike Matthews' new musical play "Danger at My Door" that opened to a sold-out house at Detroit's Opera House this past weekend. However, the good news doesn't end there for the five-octave singer known for #1 hits such as "Rain On Us" and "I Need Your Glory."
Pugh has just released "Just Worship" (P-Man Music/Central South Distribution) – a specially priced Extended Play (EP) collection of praise and worship songs that debuted at #5 on Billboard's Gospel Albums chart in August. The project's radio single "Alpha & Omega" – a soul-stirring remake of Israel Houghton's 2005 hit – is now climbing the charts and receiving a second life through Pugh's dynamic rendition. The album also includes the singer's spine-tingling Top 20 "All Things Through Christ" duet with Bishop Rance Allen. Pugh performs the latter with mesmerizing rising star Angel Davis on BET's "Bobby Jones Gospel" program that airs Sunday, October 26th @ 9 AM EST.
With Christmas just around the corner, Pugh and his management team is currently assembling the routing schedule for a holiday concert tour that will kick off after Thanksgiving and continue into Christmas week. In his spare time, Pugh mentors and grooms other artists via his EPM Music Group label where he's establishing the careers of recording artists such as Angel Davis, Keith Williams and Charles Butler & Trinity. Visit the artist online at www.earnestpugh.com for more information on Earnest Pugh and his exciting roster of artists.