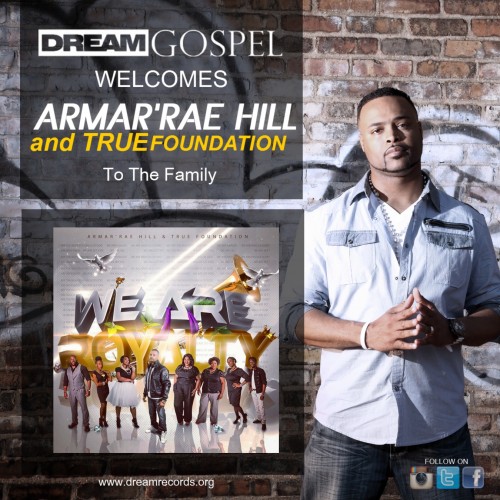 DREAM Gospel is excited to announce the signing of Armar'Rae Hill to Dream Gospel! Armar'Rae Hill and his group, True Foundation, are gearing up to release their anticipated album, We Are Royalty on Dream Gospel on January 20th 2015.
Hill is a Stellar Award credited music producer who presents his music ministry as a crossing of all boundaries. That's the evident sound and diversity with this group, whose high energy and musical style combines Gospel, rock, neo-soul, pop, and jazz onto a spirited contemporary foundation.
Hill is no stranger to the music industry. He worked with Eddie James new CD "Shift," and also penned songs for James Grear & Co., Mitchell Jones of the famed group Commissioned, and a collaborate song with music scene new comer Mali Music.
Hill has been featured in concert with Kim Burrell, Tye Tribbett, John P. Kee, Jason Nelson, Fred Hammond, Israel Houghton, Deitrick Haddon, Kierra Sheard, and Canton Jones. Armar'rae is also an Associate Minister at mega ministry, Faith Apostolic Ministries under the leadership of Pastor YPJ Miller.
Check out a sneak peek of their song, "Honorable Glory" below: