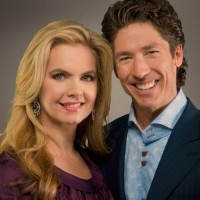 On Saturday, August 8, 2015, Joel and Victoria Osteen will hold their 7th annual "America's Night of Hope" at AT&T Park; an evening of hope and inspiration expected to draw tens of thousands from across the country.
"Victoria and I love the people of California," said Pastor Joel Osteen.  "We're excited to be at AT&T Park for the first time, and we believe everyone who attends will be uplifted and filled with an expectation that their best days are still to come."
This year marks the 7th annual event for America's Night of Hope.  The first was on April 25, 2009 at Yankee Stadium —just nine days after the new ballpark opened.  These annual stadium-sized events have also been held at Dodger Stadium in Los Angeles, U.S. Cellular Field in Chicago, Nationals Park in Washington D.C., and Marlins Park in Miami.
Over a hundred thousand people fill arenas and stadiums across America annually to hear Pastor Joel and Victoria Osteen while millions more tune in around the world online and on SiriusXM radio. Voices of hope for a new generation, the Osteens' appeal is universal, allowing them to crossover to audiences that are diverse racially, politically and socioeconomically, attracting over a million attendees to the Night of Hope events since 2004.
An important part of the activities surrounding this year's "America's Night of Hope" is the Generation Hope Project®, an outreach ministry that will reach into San Francisco's local community with volunteers from around the country to bring hope through acts of kindness and compassion. This year, the Generation Hope Project will partner with City Impact in Tenderloin, San Francisco Habitat for Humanity, and The Alameda County Food Bank.