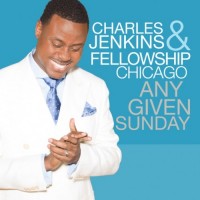 GRAMMY® Award-winning songwriter and Inspired People recording artist Pastor Charles Jenkins and his electrifying choir Fellowship Chicago storms its way into the Top Ten of Billboard Magazine's Gospel airplay chart for the fourth week with a triumphant #6* placement for the rousing radio smash "WAR," a New Orleans Brass Band-flavored call-to-action. "War is a victory anthem, fight song, and an inspirational prayer," says Jenkins.
"I believe everyone is fighting for victory in one way or another every day.  Sometimes life is like a boxing ring and Satan brings new and often multiple opponents into our lives. This song is a reminder of who you are, whose you are, and calls on your faith, strength, and hope in God. It is a reminder not to settle for defeat when victory is an option." Chicago's Spin Artist agency just cut a slick "WAR" music video that begins rotating on Aspire TV and other video outlets this month.
Pastor Jenkins is in the midst of planning a promotional tour to launch his sophomore album "Any Given Sunday" (Inspired People/Motown Gospel) that releases March 17th with guest appearances from Rev. Clay Evans (founder of Fellowship Chicago), John P. Kee, Beverly Crawford, Byron Cage, Jonathan McReynolds, Sean Hodo, Kevin Vasser, Tanesha Jefferson and the new Inspired People recording artist Donishisa Ballard.
"Any Given Sunday is a celebration of the live worship experience! Our goal is to bring the diverse, powerful and impactful soundtrack of Sunday to every single day of your life," Jenkins adds. "Simultaneously, this album is a typical picture of `Any Given Sunday' at Fellowship Chicago, depending on which worship experience you attend."
An established Grammy® Award-winning songwriter and pastor of the 8,000-member Fellowship Chicago church, Pastor Jenkins burst into the national spotlight when he and the Fellowship Chicago choir's radio debut "Awesome" topped Billboard Magazine's Hot Gospel Songs chart at #1 for 22 weeks in 2012.  It also won a BMI Award in 2014 for over 50,000 lifetime radio spins. The album "Best of Both Worlds" debuted at #1 holding the spot for 3 weeks on Billboard's Gospel Album sales chart, garnered five Stellar awards, a historic win for a new artist, and featured one more chart single, "I Will Live."