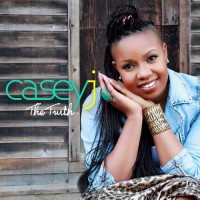 The last few days have been mind boggling for the 28-year old elementary school teacher Casey J. Hobbs. Between teaching her students during the day and doing radio interviews before and after classes; Casey J spent her evenings rehearsing with her band and fine-tuning the music for her first live album recording "The Truth" which took place this past Friday to a capacity audience at The Fresh Start Church in Duluth, GA where she serves as the worship & arts pastor.
Now, she opens a new week with the good news that her radio smash "Fill Me Up" has taken over the #1* slot on Billboard Magazine's Gospel Airplay chart for the February 14th edition. "It's just amazing the things that God is doing," the bubbly self-proclaimed Flower Child says. "This is a dream come true."
Another dream come true was the completion of Casey J's live recording. The twelve-song set of anthems "The Truth" (Marquis Boone Enterprises/Tyscot Records) releases April 21, 2015. She wrote or co-wrote six of the tunes including the rousing track "I'm Yours" and the worship ballad "Have Your Way," a duet with singer Jason Nelson. She sang a touching hymn with her grandmother and a load of music that kept the crowd on its collective feet most of the night.
Gospel luminaries such as Vashawn Mitchell, Micah Stampley, Ted Winn, Ruth La'Ontra, Marica Chisholm, Darlene McCoy (also a Radio One on-air personality) and Danetra Moore were in attendance alongside executives of the label's worldwide distributor Taseis Media Group/Warner Music Group. They were all buzzing about how refreshing the session was and anticipate great things for the forthcoming album. "That Casey J is something incredible," said Tobago who owns the DBS Sounds music store in Riverdale, GA. "I enjoyed her performance, heck I mean 'The Experience' because that is what it was.  There's something mesmerizing about her.  Her beautiful smile and anointed spirit is captivating. I cannot wait for Casey J's album.