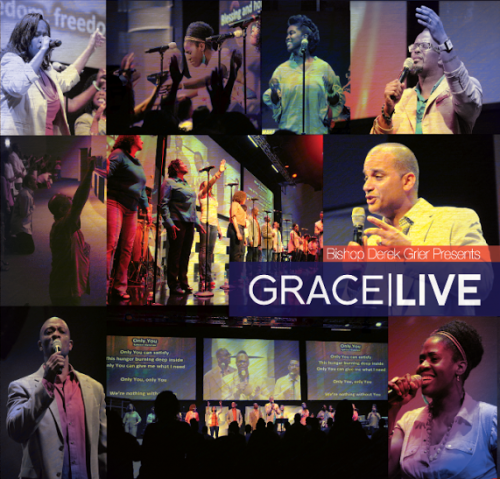 As the scripture says, "Whoever can be trusted with very little can also be trusted with much" and the Grace Church Worship Team has shown to be trustworthy as they transitioned from a small handful of members to a now 20-member ensemble with a power-packed praise that is taking the world by storm.
Since starting in 1998 with a handful of members at Grace Church, in Dumfries, Virginia, the group currently ministers weekly to a 4,000 plus congregation and now prepares to share those worship experiences in their new CD titled, GRACE|LIVE.
"God has truly been faithful to us throughout this journey," explains Ephraim McKenzie, Minister of Music at Grace Church.  "This ensemble began with no musicians, a few singers, a tape and boom box, but through it all, we had the presence of God and now He is opening doors and preparing larger platforms to minister about his goodness and grace."
Under the leadership of Bishop Derek Grier, Grace Church is recognized as one of the fastest growing churches in the country and their music ministry is definitely following suit.  Much of the transformation of the music department is attributed to the direction and expertise of McKenzie who, growing up in a family of musicians, was drawn to Grace Church because of their passion and worship.
"First and foremost the teaching of Bishop Grier is phenomenal," says McKenzie "and the heart of worship that permeates from his leadership throughout the music department and to the entire congregation is simply refreshing.  I knew immediately that this ministry was something that I needed to be a part of."
Worship is a constant theme at Grace Church and throughout the new GRACE|LIVE project.  The group's love and zest for worship is both authentic and contagious with the power of God caught on CD and demonstrated through 13 riveting tracks of Contemporary Gospel, Contemporary Christian and of course, Praise and Worship.
GRACE|LIVE, produced by McKenzie, begins with words from the Pastor of Grace Church, Yeromitou Grier. "Hallelujah Intro (Pastor's War Cry)" is a multi-language opener, complete with translation, of the moving and insightful passage of Psalm 92:1-4. A proclamation of God's love from Pastor Yeromitou speaking in Amharic, her native Ethiopian language, brings an international and Kingdom-focused presence to the experience.
The project continues with Christian recording artist Eddie James' exciting and vibrant track, "Freedom." Another soul stirring track includes "We Worship You," a mid-tempo praise jam that shines with the unforgettable voice of Shani McKenzie. Penned by Deitrick & Damita Haddon, the track is a filled with love for the Savior. The unforgettable hook makes this song easy for congregants to sing along. Each song in this worship encounter moves the believer deeper and deeper into the Throne Room of God.
With such an amazing collection of songs, it's no surprise that the hearts of the members of Grace Church were filled with praise on the night of the live recording. The sounds of worship were outward expressions of an inward gratitude for the journey that this ministry has traveled.
"Our worship has always been very authentic," says Ephraim. "It's a real experience with God. It's about having a real encounter with the King. Those who listen to the CD will feel what the congregants felt that night and my prayer is that people are left basking in the presence of God".