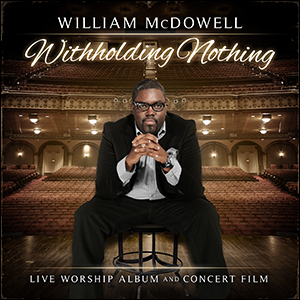 Unlike anything seen before, William McDowell's  "7 Days of Withholding Nothing" made a huge impact this month.  The extraordinary week-long event was groundbreaking providing unfettered access to modern worship music on line.
The pastor of Deeper Fellowship Church in Orlando, FL launched his 7 Days campaign earlier this month in conjunction with the digital release of his WITHHOLDING NOTHING live concert film on iTunes. McDowell offered free viewings of the extraordinary live worship experience on a special website WithholdingNothingFilm.com.  The event quickly became a global phenomenon with people from over 129 countries logging on and over 30K visits.
WITHHOLDING NOTHING was recorded live at Faith Assembly Church in Orlando, FL and is a memorable film experience filled with the sights and sounds of dynamic worship moments that contain over 20 compelling songs.
This summer McDowell will resume his worldwide touring schedule, with visits to the UK, Nigeria, Israel and the British Virgin Islands over the next month. Details on William's tour dates can be found on his website, WilliamMcDowellMusic.com
William McDowell is a pioneer in modern worship and is lead pastor at Deeper Fellowship Church in Orlando, FL.  His current album, WITHHOLDING NOTHING released last year and debuted at Number 1 on both the Billboard Gospel and Praise & Worship charts.  The WITHHOLDING NOTHINGDVD was in the Top 5 on iTunes Concert Films chart in its first week of release.
"Please believe me when I say: Withholding Nothing has captured my attention and stirred my affection for Jesus like no other project in the last several years. I listen to it almost weekly before preaching. And the DVD experience enhances all dimensions of the songs – so we can feel like we were there on this remarkable night. Thank you William for this gift."
– Pastor Steven Furtick, Founder / Lead Pastor Elevation A Church (Charlotte, NC)
"If you think a recorded worship experience can't take you into the presence of God, think again.  Withholding Nothing is one such film — You forget you're watching a dvd."
– Torrence Glenn BET.com
"In all my life I don't think I've ever heard any music or watched a worship environment that so immediately brought me into the presence of God.  When I've given out, when I'm desperate for an encounter with God, I watch this worship DVD from William McDowell. "
– Pastor Dino Rizzo, Executive Director, Association of Related Churches  
"Truly wanting the world to see 'Withholding Nothing' from the incomparable William McDowell.  IF you love worship, this will take you IN."
– Israel Houghton, Grammy Award recording artist, worship leader
"William McDowell is an In Season Talent!  'Withholding Nothing' is one of the best projects that I have heard in a very long time. Its Effortless Worship done with Anointing and Grace!"
– Khalif M. Townes, Urban Roundup Group, LLC.