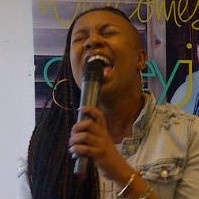 The gospel world's newest sweetheart Casey J celebrated the eighth annual Record Store Day (a national observance that celebrates independent record store retailers and the purchase of vinyl albums/LPs) this past Saturday with a mini-concert before an enthusiastic, capacity crowd at DBS Sounds, an independent music retailer in Riverdale, GA. The bubbly singer thrilled the crowd with cuts from her debut album "The Truth" (Marquis Boone Enterprises/Tyscot Records) which hits both physical and online digital stores everywhere this Tuesday, April 21st.
The album's featured radio single "Fill Me Up" has spent eight weeks in the #1* spot on Billboard Magazine's Gospel Airplay chart and three weeks atop of its Hot Gospel Songs hybrid chart (streaming, sales and airplay). The 12-song set of songs was recorded live during a standing room only concert this past January at the Fresh Start Church in Duluth, Georgia where Casey J serves as the Sunday morning worship leader. The self-professed Flower Child's soul-stirring album is like an earthy, organic and deeply soulful worship service with layers of neo-soul and soft rock.
The uplifting album's production was done by Chris Carter, Korey Bowie and Rick Watford (who has played guitar on sessions for artists as diverse as Dorothy Norwood and R&B crooner Will Downing). Jason Nelson, known for his #1 hit "I Am" appears on the summer groove "Have Your Way" and Casey J's 84-year young grandmother Dorothy Mae Choates joins her for the hymn "No, Not One." The songs range from festive, upbeat mantras such as "Let It Be Known" and "I'm Yours" to intensely personal ballads such as "Journal." On the title cut, the singer calls God the Truth and the Light but her fresh sound is also bringing the Truth and Light to a new generation of gospel listeners.
Visit www.marquisboone.com or www.caseyjmusic.com for more news and information.