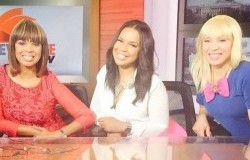 Tune in or set your DVR's to capture gospel's original urban contemporary girl group VIRTUE as they sit down with Roland S. Martin on "News One Now with Roland Martin" for an hour long special episode entitled Gospel Greats. The episode airs Friday, May 15th at 9:00 AM EST/8:00 CST on TV One.
In it, Virtue talks about their 10 year hiatus from the gospel music industry, family, their current chart-topping comeback hit single "You Are" (8 consecutive weeks in the Top 20 on Gospel radio) and the release of "Testimony: Reloaded" – a re-vamped version of their last studio album and more. The show also features interviews with Tye Tribbett, Ricky Dillard, Casey J, Donnie McClurkin, Smokie Norful, Fred Hammond and Tasha Page Lockhart.
With nearly 20 years of memorable music to their credit over the course of six studio albums and career sales exceeding well over 500,000 (according to Nielsen Soundscan) Grammy, Dove and Stellar Award nominated sister trio Virtue blazed a trail in Urban Contemporary gospel music with their unique harmonies and memorable melodies with top hits like "Put Your War Clothes On," "Great Is Thy Faithfulness," "Lord I Lift My Hands," and "Follow Me" among many more.
After nearly a 10 year recording hiatus Virtue returned to the gospel music scene in September 2014 with their comeback hit single "You Are" which peaked in the Top 20 on Billboard's Hot Gospel Airplay and Mediabase Gospel chart for 8 consecutive weeks. In February of this year they released "Testimony: Reloaded" – a re-vamped version of their last studio album that featured their current single "You Are" and an un-released track "You Deserve." Virtue is set to release their forthcoming new studio album 'Fearless' (Mixed Bag/eOne) this summer.