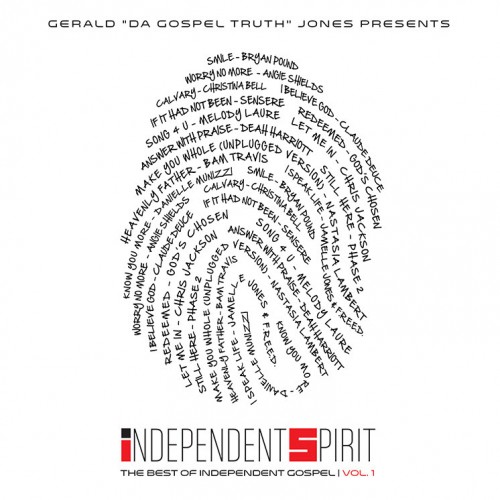 The inaugural installment of the compilation that has its finger on the pulse of what's fresh, new, and undiscovered in Gospel music will be available on September 4th, and is available for pre-order via iTunes now. When you preorder it, you instantly receive three (3) tracks by SENSERE, Christina Bell and Angie Shields and then will receive a new track each week leading up to the Sept 4th release date! This is a 14-track compilation of some of the BEST independent Gospel artists and songs! Get yours now! ?#?independent spirit
INDEPENDENT SPIRIT, Vol. 1 (Plus 2 Music/Mixed Bag Entertainment), presented by Gerald "Da Gospel Truth" Jones is the first installment in a series that shines light on, and provides a platform for, the undercurrent of great "independent" gospel music.
MEET THE INDEPENDENT SPIRIT ARTISTS BELOW:
ABOUT SENSERE:
Sensere, a gospel, neo-soul and rock band based in South Florida began their musical journey in the winter of 2003. Sensere's debut album, Senserely Yours won over many supporters in South Florida which led to their sophomore release, The Soul of Future Worship, Vol. 1 which garnered critical acclaim.
Sensere has been featured on The 700 Club (CBN Network), Bobby Jones Gospel (BET Networks), TBN's 15th Street Live and South Florida's prestigious 7th annual "Jazz in the Gardens". They were the first gospel artist to perform at the festival. They recently released their 3rd independent project Kingdom Therapy on May 12th.
ABOUT CHRISTINA BELL:
Born a twin to a loving family in Florissant, MO, Christina C. Bell a Pastor's daughter, fell in love with music at the age of four. At ages fourteen through seventeen, Bell gravitated towards R&B and Gospel Music. Enamored with her vocal ability, talent shows Star maker and Apollo were highly impressed. Indecisive and running from opportunities she wrestled with picking a genre. Unable to complete her self-titled R&B album at age eighteen, Bell surrendered her life over to God and has been singing for Him ever since. She released her independent album, UP in January 2015.
ABOUT ANGIE SHIELDS:
Angela J. Shields is a native of Anchorage, Alaska. Her gift of singing was realized at the age of 3 when she would be seen mimicking some of her favorite singers. She was the winner of the 2007 Shirley Caesar competition and has shared the stage with Marvin Winans, Dorinda Clark-Cole, Byron Cage, Earnest Pugh, Walter and Edwin Hawkins, Shirley Caesar, and Kim Burrell to name a few.