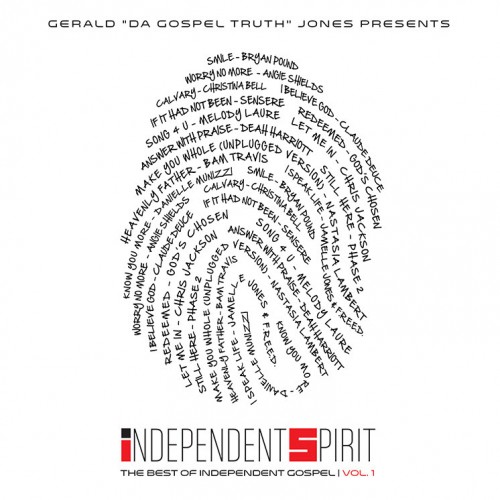 The inaugural installment of the compilation that has its finger on the pulse of what's fresh, new, and undiscovered in Gospel music will be available on September 4th, and is available for pre-order via iTunes now. INDEPENDENT SPIRIT, Vol. 1 (Plus 2 Music/Mixed Bag Entertainment), presented by Gerald "Da Gospel Truth" Jones is the first installment in a series that shines light on, and provides a platform for, the undercurrent of great "independent" gospel music.
Independent Spirit, Vol. 1 features "If It Had Not Been," by gospel soul band SENSERE, and other brand new music from some of the hottest unsigned talent in the country. This compilation is a stunning, hand-picked collection of 14 ear-worthy Gospel songs from an impressive roster of largely unknown diverse talent. The project features all new music from Deah Harriott, Bam Travis and Chris Jackson (Toni Braxton, Tank, The Isley Brothers) in addition to songs from Bryan Pound, God's Chosen, and Danielle Munizzi to name a few . Reflecting a spectrum of sounds from neo soul-tinged foot-stompers to touches of EDM, traditional gospel, contemporary gospel, R&B, pop, and more, *Independent Spirit, Vol 1 soars not only in quality, but also in its diversity. Not only are the tracks sonically diverse, but the artists are ethnically and geographically diverse.
Consumers who pre-order Independent Spirit, Vol. 1 will instantly receive two (2) song downloads from the project, and will then receive one (1) additional download each week until the project is released on September 4th, totaling seven (7) available song downloads prior to the official release date.
The unprecedented staggered release of half of the projects tracks, prior to the release date, demonstrates the vast diversity and the staggering level of talent and artistry thatIndependent Spirit, Vol. 1 possesses.