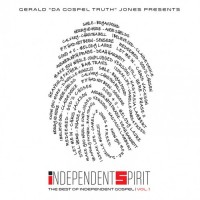 Gerald "Da Gospel Truth" Jones has revealed the cover artwork and the official street date for INDEPENDENT SPIRIT, THE BEST OF INDEPENDENT GOSPEL, Vol. 1 project available in stores and online everywhere Friday, September 4, 2015. INDEPENDENT SPIRIT, Vol. 1 is the first installment in a series that shines light on, and provides a platform for, the undercurrent of great "independent" music that dwells in every city and in every town in our nation, yet just beyond the outskirts of Major Label and Broadcast Radio. This collection of music invites listeners to look beyond the same 10 songs that are heard, ad nauseum, from market to market, station to station, and daypart to daypart.
As compilation visionary – Gerald Jones traveled around the country, he was exposed to a treasure trove of phenomenal yet underexposed góspel music talent. He noticed a disconnect between the anointed and innovative music he was hearing from independent artists in small towns and big cities alike versus the narrow categories reflected in the same 10 songs that he was hearing on radio over and over again. While he appreciated the artistry in mainstream gospel music, Gospel Music fans who were also expressing a desire to hear a greater diversity of new voices decided to turn his frustration into revelation and teamed up with emerging independent label Mixed Bag Entertainment to create Independent Spirit, Vol. 1. This project is a decisive response to the hunger for new and exciting music that is proven by the staggering successes of portals such as Sound Cloud and YouTube, where artists can share distribute music with listeners and viewers.
This inaugural compilation is a stunning, hand-picked collection of 14 ear-worthy Gospel songs from an impressive roster of largely unknown diverse talent. The project features all new music from Deah Harriott, Bam Travis and Chris Jackson (Toni Braxton, Tank, The Isley Brothers) in addition to songs from Bryan Pound, God's Chosen, and Danielle Munizzi to name a few . Reflecting a spectrum of sounds from neo soul-tinged foot-stompers to touches of EDM, traditional gospel, contemporary gospel, R&B, pop, and more,*Independent Spirit, Vol 1 soars not only in quality, but also in its diversity. Not only are the tracks sonically diverse, but the artists are ethnically and geographically diverse.
Impacting Gospel radio now is the lead single "If It Had Not Been" by Gospel-soul group SENSERE, which is available now for purchase at iTunes (https://itun.es/i6LV2SG), Amazon (http://bit.ly/1PowUGP) and other digital retailers. Produced by Carlos Woodardfor Major Third Productions, and written by Justin Francis, Gerald Jones, Carlos Woodard and James Wright, the tune is a feel-good groove with that soulful, almost-throwback vibe for which SENSERE is becoming well known.
Independent Spirit, Vol. 1 is a must-have for those gospel music enthusiasts who want to delve more deeply into the genre they love. Independent Spirit, Vol. 1 reflects the liberty, passion, and heart that is synonymous with art and expression in its purest form and answers the previously rhetorical questions "What else is there?" and "Where are the new artists with their ears, and pens, to the streets of Anytown, USA?" The answer is…it's all right here, on Independent Spirit, Vol. 1.