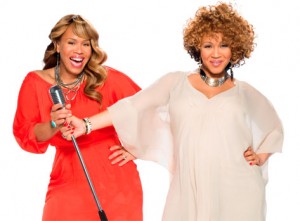 Earlier this week Sister2Sister Magazine posted a short clip of an interview with Grammy Award-Winning Gospel Duo, Mary Mary, on its YouTube Channel. In the short video Tina Campbell, the more outspoken sister, gave her personal opinion on the Chris Brown/ Rihanna situation. As many of you may know, R&B Superstar Chris Brown was charged with assaulting his ex-girlfriend, International Pop Star Rihanna, back in 2009.
After being scrutinized publicly by the media for the past three years, the young lovers recently made headlines when they joined forces to make remixes for each other's songs. Brown appeared on the remix of Rihanna's "Birthday Cake" and Rihanna appeared on the remix of Brown's "Turn Up The Music".
In the YouTube video, Tina says, "Let them people be in love if that's what they want to do… If they forgave each other let them forgive each other…" in regards to the situation. She then goes on to say something that I, and many others agree with, "I don't think that women should continuously provoke a man and expect him to not respond to the provoking. Nor do I think that men should take advantage of a woman, who's probably going to be a little more frail, not as strong as you are and use that strength to harm them. I think that both parties should respect each other and hands shouldn't go on nobody.  It's not OK if it's a man, and it's not OK if it's a woman…"
She's does go further into the detail of her reasoning, but to find out what else she says you have to watch the video below:
Video courtesy of Sister2Sister Magazine
I HAVE TO SAY I DO LOVE TINA'S HONESTY, DO YOU AGREE WITH HER?