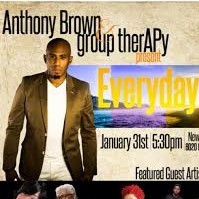 Tyscot Music & Entertainment sets the stage for a dynamic 2015 with the jump start of two live artists' recording events by breakout artist, Casey J and Stellar award-winning, Anthony Brown & group therAPy on Jan. 30 in Atlanta and Jan. 31 in Baltimore, respectively.
Recently signed to Tyscot through a partnership with Marquis Boone Enterprises (MBE), elementary school teacher turned praise and worship sensation, Casey J is making her mark with her powerful debut radio single, "Fill Me Up," which has quickly reached Top 5 on three Billboard gospel charts. Featured in Essence's "2015 Gospel Artists to Watch," the 28-year old is set to share a true worship experience during her live recording of her forthcoming project, "The Truth" featuring Jason Nelson. "The Truth" is scheduled to hit stores and online platforms everywhere on April 21.
Taking to the stage for their sophomore project with Tyscot, Anthony Brown & group therAPy doesn't disappoint with an invigorating live recording dubbed "Everyday Jesus." Named the 2013's Stellar Awards Group (Duo) of the Year, Anthony Brown & group therAPY have created a top-notch musical event geared towards helping us experience Jesus every day and in every way.
"Everyday Jesus" will feature guest artist and label mate Rance Allen, along with Maurette Brown Clark, Gaye Arbuckle, Darrell Walls, Chrystal Rucker and Beverly Crawford.
Don't miss these historic events:
Casey J's Live Recording-Friday, Jan. 30 at Fresh Start Church, located at 2021 W. Liddell Road, Duluth, GA. Recording starts at 7:30 p.m. and is a FREE event.
Anthony Brown's "Everyday Jesus" Live Recording-Saturday, Jan. 31 at the New Psalmist Baptist Church, located at 6020 Marion Drive, Baltimore, MD at5:30 p.m.