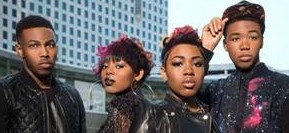 The National Academy of Recording Arts and Sciences announced on Friday, December 5, 2014 The Walls Group's first Grammy nomination: Best Gospel Performance/Song for "Love on The Radio," written by multiple Grammy-Award-winner Kirk Franklin.
"Love On The Radio" spent 17 weeks on the Gospel Radio Chart and peaked at an impressive #9 position.
"This is a special day for me and the entire Fo Yo Soul Recordings/RCA family," said Kirk Franklin.  "We are thrilled about receiving this Grammy nomination for our first signed artist, The Walls Group.  I'm feeling like a proud father today!"
FAST FORWARD, the critically acclaimed album by The Walls Group, debuted at #1 on the Gospel Album Sales Chart, Billboard's Top Christian/Gospel Albums Chart, iTunes Christian & Gospel chart, and Amazon's Gospel chart.   Executive produced by multi-platinum gospel star Kirk Franklin, FAST FORWARD features 10 tracks of modern, up-beat and progressive music with strong gospel influences.  FAST FORWARD is available everywhere music is sold.
Inspired by the group's multi-generational appeal, Franklin wrote and produced 8 of the album's 10 songs and appears on the compelling track, "Beautiful." Eldest member of the group, Darrel also showcased his pen, writing two tracks featured on the project, "Great Is Your Love" and "Freedom."  The album includes power collaborations with R&B artist Brandy on "God On My Mind," and popular Christian rapper Lecrae on "High."
The talented Houston-based siblings, Ahjah (17), Paco (18), Rhea (19) and Darrel (23) have been on the fast track to success that includes going on a national House of Blues tour with gospel phenom, Tye Tribbett , performing as BET Music Matter's artists on 106 & PARK, and debuting a #1 selling album that received over a million streams on Spotify—but the group remains humble.  The whole group co-signs the soul-searching single "Satisfied," saying it reminds them to keep their eyes on the true prize.