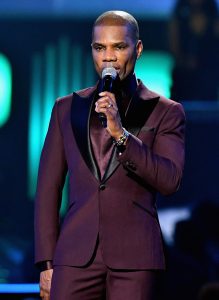 RCA Inspiration received multiple honors at the 33rd Annual Stellar Awards hosted by music icon Kirk Franklin and held at the Orleans Arena in Las Vegas, NV.  One of faith-based music's most engaging artists, Travis Greene, took home four awards for Producer of the Year, Male Vocalist of the Year, Contemporary Male Vocalist of the Year, and the Stellar Awards' top honor, Artist of the Year, for his chart-topping album, Crossover: Live from Music City.  22-time Stellar Award winner, Marvin Sapp, added two more Stellar Awards to his collection, winning Traditional Male Vocalist of the Year, and Traditional CD of the Year for his chart-topping album, Close (Verity/RCA Inspiration).  For the third consecutive year, RCA Inspiration claimed the award for Special Event CD of the Year, for Greenleaf Soundtrack: Volume 2.  And the legendary Kurt Carr was inducted into the Stellar Honors Hall of Fame for his pioneering career and indelible impact on Gospel music.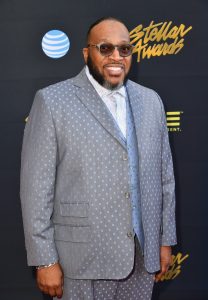 In addition to garnering several awards, RCA Inspiration artists hit the stage creating moving musical moments for both the Stellar Awards and Stellar Awards Pre-Show.  Snoop Dogg made his Stellar Awards debut, performing "Words Are Few" with B. Slade from his first Gospel album,Bible of Love.  Travis Greene created a virtuosic live performance, while Le'Andria Johnson delivered two moving performances on the show. Donald Lawrence, Koryn Hawthorne, Tasha Page-Lockhart, and Christon Gray also gave memorable performances, and Marvin Sapppresented.  Jason Nelson, The Walls Group, and Tasha Page-Lockhart, helped kick off the Stellar Awards weekend festivities with performances on the Pre-Show.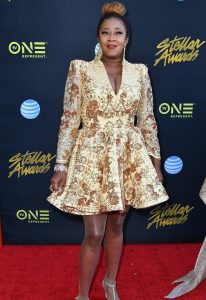 When talking about the label's numerous Stellar Award honors, RCA Inspiration SVP and General Manager Phil Thornton says, "Congratulations to Travis Greene, Marvin Sapp, Kurt Carr and the whole Greenleaf family on these latest achievements! We're so grateful to Don Jackson and Central City Productions for providing this opportunity for Gospel music and artists to be recognized and appreciative of everyone who supports inspirational music!"
The 33rd Annual Stellar Awards will premiere on TV One on Friday March 30, 2018 at 9 PM ET/8 PM CT, with additional airings in broadcast syndication from March 31st to May 6th.

LAS VEGAS, NV – MARCH 24: Travis Greene performs during the 33rd annual Stellar Gospel Music Awards at the Orleans Arena on March 24, 2018 in Las Vegas, Nevada. (Photo by Earl Gibson III/Getty Images) *** Local Caption *** Travis Greene
LAS VEGAS, NV – MARCH 24: (L-R) Paco Walls, Rhea Walls, Ahja Walls, and Darrel Walls of The Walls Group attend the 33rd annual Stellar Gospel Music Awards at the Orleans Arena on March 24, 2018 in Las Vegas, Nevada. (Photo by Earl Gibson III/Getty Images) *** Local Caption *** Paco Walls; Rhea Walls; Ahja Walls; Darrel Walls
LAS VEGAS, NV – MARCH 24: Tasha Page-Lockhart attends the 33rd annual Stellar Gospel Music Awards at the Orleans Arena on March 24, 2018 in Las Vegas, Nevada. (Photo by Earl Gibson III/Getty Images) *** Local Caption *** Tasha Page-Lockhart
LAS VEGAS, NV – MARCH 24: Snoop Dogg (L) and B.Slade perform during the 33rd annual Stellar Gospel Music Awards at the Orleans Arena on March 24, 2018 in Las Vegas, Nevada. (Photo by Earl Gibson III/Getty Images) *** Local Caption *** Snoop Dogg; B. Slade
LAS VEGAS, NV – MARCH 24: Tony Marshall attends the 33rd annual Stellar Gospel Music Awards at the Orleans Arena on March 24, 2018 in Las Vegas, Nevada. (Photo by Earl Gibson III/Getty Images) *** Local Caption *** Tony Marshall

LAS VEGAS, NV – MARCH 24: Kirk Franklin speaks during the 33rd annual Stellar Gospel Music Awards at the Orleans Arena on March 24, 2018 in Las Vegas, Nevada. (Photo by Earl Gibson III/Getty Images) *** Local Caption *** Kirk Franklin
LAS VEGAS, NV – MARCH 24: Jason Nelson and guest attend he 33rd annual Stellar Gospel Music Awards at the Orleans Arena on March 24, 2018 in Las Vegas, Nevada. (Photo by Earl Gibson III/Getty Images) *** Local Caption *** Jason Nelson
LAS VEGAS, NV – MARCH 24: Koryn Hawthorne attends the 33rd annual Stellar Gospel Music Awards at the Orleans Arena on March 24, 2018 in Las Vegas, Nevada. (Photo by Earl Gibson III/Getty Images) *** Local Caption *** Koryn Hawthorne
LAS VEGAS, NV – MARCH 24: Le'Andria Johnson attends the 33rd annual Stellar Gospel Music Awards at the Orleans Arena on March 24, 2018 in Las Vegas, Nevada. (Photo by Earl Gibson III/Getty Images) *** Local Caption *** Le'Andria Johnson