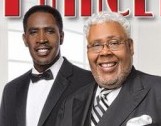 Based on the smile on Bishop Rance Allen's face, this picture is saying that their new project, "Celebrate", is: "DONE and ready to roll out"! Today he's also revealing the new cover along with news of the album's official street date: Tuesday, November 11th.
The group has been hard at work crafting this soon-to-be classic.  Fans were first introduced to the group's "new" sound with the breakout hit single "A Lil' Louder (Clap Your Hands)" and the group assures that there are even more musical gems on this project.
Check out the track listing below:
1. A Lil' Louder (Clap Your Hands)
2. Celebrate
3. Champion
4. Sounds Like Rain
5. Step Out
6. U R Not Alone
7. Turn It Around
8. Feel the Spirit
9. He's Real
10. Stay Focused
11. Through The Fire
12. Walking In the Sand
"Celebrate" will be available in stores and online November 11th.