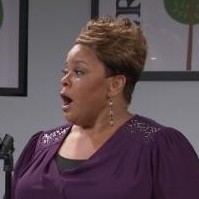 In this week's all new episode of Bounce TV original sitcom MANN & WIFE, premiering this Tuesday, May 12 at 9 p.m. ET/8 p.m. CT on Bounce TV, Toni (Tamela Mann) wants to join a new church, but her mother-in-law Lorraine is not having it! A tug-of-war ensues when she insists that the family remain at the same house of worship that the Manns have attended for three generations.  Things also get a little awkward when Toni flexes her vocal skills in an impromptu sing-off to the delight of the congregation.
Daniel (David Mann) is beyond thrilled that his non-athletic son DJ (Steven Wash, Jr.) is trying out for the football team!  The proud papa is in for a bit of a surprise though, when he finds out the position on the field that DJ is vying for is not quite what he expected. Rolonda Watts, Emmy and Cable Ace Award-nominated journalist, TV and radio talk show host, guest stars.
MANN & WIFE has broken network ratings records as Bounce TV's most-watched original to date and has just been renewed for a second season. Tune in for big laughs on MANN & WIFE this Tuesday, May 12 at 9 p.m. ET/8 p.m. CT.