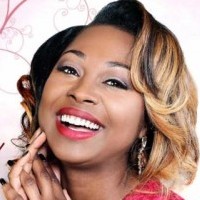 St. Louis based breakout new artist CHENETA JONES had an incredible introduction into Gospel and Christian Music.  Her 2012 debut album TRANSFORMED (Real Talent Media Group / Habakkuk Music /Universal) debuted at #13 on Billboard's Top Gospel Albums and #17 on Billboard's Top Heatseekers Chart.  TRANSFORMED yielded two Top 25 Gospel Radio singles "Get There" and "Be Like You" and ultimately garnered the former Tye Tribbett background singer her first Stellar Nomination for New Artist of the Year.
In the few short years since her entry into Gospel music as a bonafide musical force, Cheneta Jones has continued to plant her music and ministry firmly in an ever changing world to which her desire is to elevate, motivate and inspire with her voice.  2015 is bound to be another astounding year for the vocalist as she works on her sophomore project and introduces her first single "It's You" (A Love Song).
The beautiful and elegant singer and songwriter penned "It's You", with the help of producer Dana Sorey (Jason Nelson, Eric Roberson, Anthony Brown), as a Love song to Jesus.  "People write love songs to one another all the time, but I wanted to write one to God and give Him honor and pour my love on Him," Cheneta tenderly shares.  "One of my favorite male vocalists is Zacardi Cortez," she continues.  "I'm so glad to have him on this song and he did an amazing job!"
Cheneta and Zacardi croon the perfect love ballad as gospel radio embraces the heartfelt tune reminiscent of the classic inspirational love ballads and style of mutli-award winning brother sister super duo BeBe and CeCe Winans.
"It's You" launches Cheneta's sophomore project I AM CHENETA JONES with a targeted Fall 2015 release date.  Since her first CD, Cheneta has experienced many changes, challenges, high and low moments in life as so many do.  I AM CHENETA JONES is proving to be somewhat of a chronicle of her growth as an artist and personal test and trials as a young woman in ministry.
"This new project will definitely reflect my recent struggles – finding my identity, redefining myself as an artist and using God's Word to find out who I am instead of letting people define who I am," Cheneta confidently states.  "I've grown as a songwriter because life experiences can help you write genuine, prolific songs," she continues.  "I'm in a different season of maturity because the enemy continued to attack me, but God's mandate for me was greater and I remained tenacious, holding on to God and His promise to me.  No matter what circumstances arise, God will make sure all things come together for His good if we just remain faithful."
Cheneta's pure voice is an emission of her audacity to love God and be loved by God.  "It's You" is more than a song, it's a statement of faith and dedication and a call for all to unite to the One who first loved.