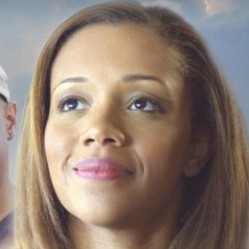 Soap star Chrystee Pharris has successfully positioned herself as a true 'queen of drama' in Hollywood. Not only is she starring in the family faith-based film, "Steps of Faith," with Ted Lange ("Love Boat") and Irma P. Hall("Soul Food"), Pharris will also impact the small screen as part of an all-star cast on POP TV's new reality docu-series "Queens of Drama." "Queens of Drama" will air right after the 42nd Annual Daytime Emmy Awards on April 26, 10:00 p.m. ET/ 7:00 p.m. PT.
The former soap star, who played Simone Russell on NBC's hit daytime soap "Passions," is also busy touring her new film, "Steps of Faith," at film festivals around the country as well as conducting her highly successful "Business of Acting" seminars at several of the festival events. After years of dedication, persistence and patience, work efforts are finally paying off for the funny, driven and sophisticated talent.
In "Steps In Faith," directed by M. Legend Brown, Pharris plays the lead character, Faith, and stars alongside Ted Lange, Irma P. Hall, Charles Malik Whitfield ("One Life to Live") and Tracey Ross ("Passions").  The film is about a young woman who is not a church girl, but feels like she hears God tell her to move and work with children and animals, neither of which she likes. When she shares her vision with family they mock her. In the feature, we witness her fighting through her own fears to complete the mission God has called her to do.
"Steps of Faith" has been accepted into 16 film festivals and is available on DVD.  With her "Business of Acting" workshop she is presenting at several of the screenings, Pharris teaches participants how to get work without an agent, how to build relationships with producers and directors, and how to market oneself.
With TV Guide Network re-branding and launching as POP, their new docu-series "Queens of Drama" is sure to have all eyes glued to the new network.  With an all-star cast of former soap divas, including soap stars Lindsay Hartley ("All My Children"), Crystal Hunt ("One Life to Live"), Vanessa Marcil ("General Hospital"), Hunter Tylo ("The Bold and The Beautiful") and special appearances by Donna Mills ("Knots Landing"), Pharris joins the crew as its only African American cast member.  Cameras follow the beauties as they work together to produce, direct and cast their own primetime TV drama. Following its premiere, "Queens of Drama" will begin airing in its regularly scheduled time slot on Wednesdays, at 8:00 -8:30 p.m. ET/PT, starting April 29.
Pharris, originally from Las Vegas, can also be remembered as JD's love interest Kylie in "Scrubs," as well as for her stint on "General Hospital." She recently toured her hilarious one-woman show, "In Search of O," which is about waiting until marriage at the age of 27 to have sex, and the fantasy verses the reality of that experience. She has also hit the stage in Ted Lange's "Let Freedom Ring" with SNL's Garrett Morris and will again be performing in Lange's "Lady Patriot," production on October 2 through October 4, 2015 in Nashville, Tennessee at Fisk University.