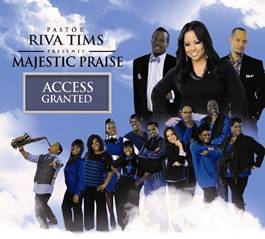 Churches nationwide are capturing Sunday morning worship and bottling it in a CD, an experience that worshippers can have long after Sunday morning has passed.  Majestic Life Church has provided an unparalleled church experience featuring a singing aggregation known as Majestic Praise, in a brand new CD, 
Access Granted
.  Presented by renowned speaker, gifted author and Majestic Life Church's pastor, Riva Tims, the CD not only showcases the talents of members of her own praise team, but also other notable figures in Gospel music.  Joining Majestic Praise are three guest artists: Shirley Murdock, Preashea Hilliard and John Wilds.  
Access Granted
 is the first release out of the gate from Zion Records and is currently available where digital music is sold.
Gospel music fans have been enjoying two cuts from the album at radio.  Songs like the moving 'When It All Falls Apart", inspired by Pastor Tims' book of the same name, and the unforgettable "Incredible God", featuring the vocals of John Wilds, make it clear that Majestic Praise knows how to give God His due.  In addition to the singles, the project boasts other inspiring tracks like the Shirley Murdock-led title tune, the CCM-tinged track, "Greater Is He", led by Preashea Hilliard, and the ever-encouraging song, "Work Your Faith".  From the excitement of praise to the reverence of worship, Access Granted delivers Gospel music at its finest.
"This music is sure to set an atmosphere for praise and worship," explains Pastor Tims.  "It provides a Sundaymorning experience that can be felt on any day of the week. I truly believe that the Spirit of God is felt in every song and that the message behind each song will minister to every situation."
The project is the brainchild of producer, musician and songwriter, Lydell Tate.  The Director of Praise & Worship at Majestic Life Church, Tate pulled together the best musicians and songs to include in the church's debut record.  Ernest Collins also contributed to the production and songwriting on Access Granted.  Majestic Praise has begun to receive national exposure with the group appearing on The Word Network, Babbie's House, and Atlanta Live. In addition to the songs' availability digitally, physical copies of the project are available through CDBaby.