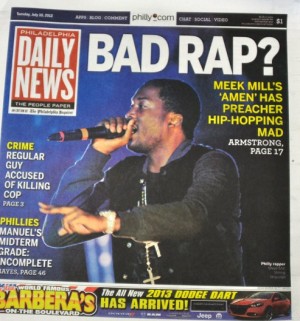 Finally, Pastor Jomo Johnson and Rapper Meek Mill had the chance to have a conversation and discuss the "Amen" controversy. Both parties called in to Philadelphia Radio Station 107.9 for what was supposed to be a logical discussion, however, it turned out to be a full blown argument. Clearly, Meek Mill was upset by the accusations made by Pastor Johnson in regard to him and his song, "Amen".  The main point that Meek Mill stressed in the "debate" is that he does alot for his community and doesn't take any of his blessing for granted. He thinks Pastor Johnson is doing this for a publicity stunt because if he would have contacted him one-on-one, instead of using the media, he'd be more cooperative and open to hearing what Pastor Johnson had to say.
Pastor Johnson's response is that he tried to reach out to Meek Mill via the internet five months ago, which was before "Amen" was even released by the way, but was unsuccessful. He also says that Meek Mill's music in general promotes rape, theft, violence and blasphemy. Pastor Johnson claims that he doesn't want anything from Meek Mill, he just wants him to acknowledge his sins to God and repent for his own soul. Another major point he made was that even though the rapper may do things for his community, that still doesn't give him the right to be insensitive in regard to the lyrics in his raps.
This whole situation stems from Meek Mill making headlines in the media this week for controversy surrounding his latest radio single, "Amen".  (Even though we reported it weeks ago) The issue began when Pastor Jomo Johnson, Founder and Co-Pastor of Philly Open Air Church in Philadelphia, used his blog to blast Meek Mill about the content in the song. Pastor Johnson believes that "Amen" is a display of disrespect for the Christian community. He claims Meek Mill, real name Robert Williams, insults the church by comparing it to a club or "sexual brothel". Pastor Johnson, who claims to be a Hip Hop fan, is encouraging rap fans who believe in Jesus Christ to boycott Meek Mill until he acknowledges his alleged disrespect.
"As a Pastor it hurts me to say that Meek Mill, with this song, has mimicked his mentor by becoming a 'blasphemous bastard' through his music," says Pastor Johnson. "It is my hope that he and other similar artists will recognize the seriousness of their error and acknowledge this sin by confessing it to the Lord Jesus Christ. All of us have sinned, and the Lord is more than willing to forgive those who confess those sins and turn to him in faith."
The funniest part about the "argument" in my opinion is Meek Mill saying that he would have remixed the song and did a version with Kirk Franklin if the situation was handled differently. Really Meek? But all jokes aside he may have made a few valid points in defense of himself, however, Pastor Johnson made valid points for his argument too, besides the rape accusations. Nonetheless, listen to the Rapper and Pastor go back and forth below. Don't forget to let us know what you think in the comment box!
WHO DO YOU THINK IS RIGHT IN THIS SITUATION?