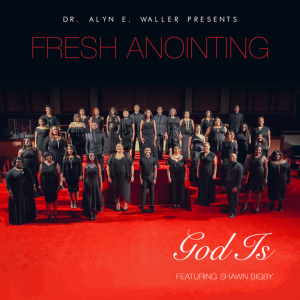 Dr. Alyn E. Waller, senior Pastor of Enon Tabernacle Baptist Church and his   Fresh Anointing choir of millennials have maintained a successful streak at radio with previous singles "Holy, Holy" and "Oh, How I Love Jesus" featuring multiple award-winning artist John P. Kee.  Fresh Anointing is delivering fresh artistic arrangements of classic hymns and new contemporary worship songs with theologically engaging penmanship that are ministering to and captivating listeners.
Fresh Anointing's new single "God Is" features worship pastor, songwriter and recording artist Shawn Bigby and is produced by Garland "Miche" Waller.  "God Is" is impacting Gospel radio formats and is available on all digital music and streaming outlets now.
"Fresh Anointing continues to supply the Gospel community with music to encourage and inspire," states Fred Blain of WNAP Radio, Philadelphia.  "Their 'God Is' single will have you singing along rejoicing in the Lord."
Listen To "God Is"
"It was such an honor to work on this record with my brother, the legendary Garland Miche Waller," Shawn Bigby shares.  "I'm so happy about all of the great things that he and Enon Tabernacle are doing ESPECIALLY with good choir music!"
"God Is" completes the trilogy of singles for the enthusiastic choir and is the precursor to their debut album release TOTALLY.  Fresh Anointing's TOTALLY album will be released via the Enon Tabernacle Baptist Church record label Enon Music Group on May 4.