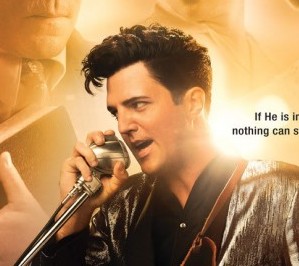 City of Peace Films production, in association with The Identical Production Co., presents "The Identical" – a new faith based film that tells the tale of twins (Blake Rayne) separated a birth but spiritually bound together, and ultimately reunited, by their love of music, in theaters nationwide September 5th.
Set during The Great Depression, the strike of poverty forces their parents (Brian Geraghty, Amanda Crew) to offer one child for adoption to a loving pastor's family. Despite the decision setting the boys, Drexel Helmsley and Ryan Wade, on two completely different walks of life, an intense passion for music would act as the navigator that leads them to live unexpectedly parallel lives and cross paths again.
Loosely based on the story of the King of Rock N' Roll Elvis Presley, whose real life twin was stillborn, the story sees Drexel rise to legendary heights of musical fame while his devout Christian brother, Ryan, battles with trying to please his minister father and his own musical dreams under the encouragement of his wife Jenny (Erin Cottrell) and lifelong friends Dino and Avi (Seth Green, Joe Pantoliano). What transpires from there is a gripping tale of "hope and redemption." A thrill-ride of loss, laughs, and love, the film tackles topics of tradition, familial restoration, reconciliation, and so much more.
Also starring Ashley Judd ("Kiss the Girls," "Double Jeopardy"), the film shins as the directorial debut of Dustin Marcellino. Produced by Mark G. Mathis, Yochanan Marcellino, Matthew Dean Russell, the film also features over 20 original songs by Yochanan and Jerry Marcellino.