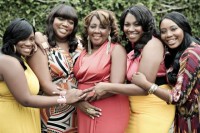 One Voice Media CEO Zantino M. Kimmons is ecstatic that his firm's hard work and persistence has resulted in multiple Stellar Award nominations for Lisa Knowles & The Brown Sisters' Top Ten album "The Evolution Continues" that features the bouncy Top 30 radio smash "God Do It." The group's lead vocalist Lisa Knowles is up for a Stellar Award as Traditional Female Vocalist of the Year and The Brown Singers are up for two Stellar Awards as Quartet of the Year and Traditional Group/Duo of the Year.  The group has also been selected to perform on the 30th Anniversary Stellar Gospel Music Awards program that tapes this Saturday, March 28th at The Orleans Arena in Las Vegas and airs the weekend of April 4th on the TV One cable network.
"The invitation for the group to perform on The Stellar Awards came out of nowhere," says Kimmons who is a young but veteran music industry insider. "We weren't expecting this opportunity but to God be the glory. We are really excited that the industry is noticing the great work that Lisa and the Brown Singers are doing without a big machine behind them." Kimmons worked alongside the Noble Promotion Group and Central South Distribution to push "God Do It" into the Top 30.
One Voice Media is currently planning to release a new radio single on the group this summer while also charting its next steps up the ladder of success.  In the meantime, Knowles recently joined R&B star Fantasia and Erica Campbell for an exhilarating remix of the ladder's Top Ten hit "A Little More Jesus." It's featured on Campbell's new "Help 2.0" album. The Brown Singers were formed in the late 1970s by Lisa Knowles' grandmother, Willie Mae Richmond whose maiden name is Brown. The Memphis group performed together for almost a decade before Knowles joined during the 5th grade when she was nine years old. By the time she was 12, she was the lead singer. "I had a drive," she laughs. "I love doing this and the way it makes me feel." Over the last two decades, the group has enjoyed quartet hits such as "Work On Me," "I Need You Lord Jesus" and  "Zion." Visit www.itsovm.com for more information.