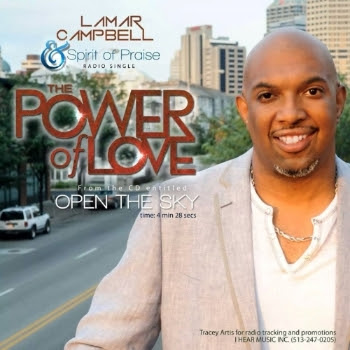 When Gospel Music Trailblazer, Lamar Campbell released his new single "The Power of Love", he also set out to share with supporters, that God's Love is the standard by which we should show love toward others.
Since releasing the new single, Lamar Campbell has opened up about the inspiration behind recording, "The Power of Love" on several platforms across the country.  Campbell also recently thanked supporters and fans for loving him and the music via social media:
"Friends, family and fans; Thanks so much for all the YouTube posts of our NEW single, THE POWER OF LOVE! Know, we are on this journey together and we can't do it without the support of people who know and love us! God is definitely Opening the Sky and the vision for this collection of songs is coming to pass and impacting the KINGDOM to the Glory of GOD!"
On, Wednesday, November 19th, Lamar Campbell and Spirit of Praise will sing "The Power of Love" along with more great music from their OPEN THE SKY project during a television taping at the TBN Studios in Greenwood, IN.
A native of Indianapolis, IN, Lamar Campbell is excited to visit the TBN Studios in his home state and honored to share a message of love with viewers.  "The Power of Love" message will continue to flow during the TBN taping, as Lamar Campbell also teaches an inspiring message of hope to the viewing audience.
Look out for Lamar Campbell & Spirit of Praise's upcoming TBN television performance to air in December 2014 online and on station, WCLJ-TV Channel 42 in the Indiana area.
Lamar Campbell and Spirit of Praise have also received love from supporters of their music, being nominated on the 2015 Stellar Award first round ballot in the 3 categories, Choir of the Year, Traditional Male Vocalist of the Year and Contemporary Choir of the Year for their latest project, OPEN THE SKY.