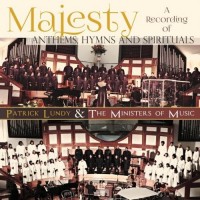 Few community choirs can rival the vocal diversity and spirited delivery of Patrick Lundy & The Ministers of Music.  Debuted in 1994 at Ebenezer AME Church in Fort Washington, MD, the choir has backed some of the finest artists – both secular and sacred – to hit the stage.  They have performed at the White House, at the Kennedy Center of the Performing Arts and toured overseas singing in Portugal, Spain and Italy.  Now the renowned and award-winning choir drops a brand new project called Majesty: A Recording of Anthems, Hymns and Spirituals.  A musical collage of uplifting music, the project is available now.  Through their distribution deal with New Day Christian Distributors, the new release is available at Christian bookstores and other retailers.  In addition, the CD can be purchased online through CDBaby.com, iTunes and Amazon.com.
Appropriately titled, Majesty, the 2-CD set finds the choir spanning the gamut musically, and doing it all superbly.  Lundy says, "As I have traveled the country in response to requests to conduct workshops and clinics, it has become apparent that the ability to offer anthems, hymns and spirituals in a choir's repertoire has become a lost or dying art.  Consequently, quite similar to the vision God gave me for Patrick Lundy & The Ministers of Music (PL&MOM) to be a choir which is capable of ministering all genres of sacred music, the concept for Majesty resulted from the need to keep anthems, hymns and spirituals alive in our worship experience.  I wanted us to be able to share with others the passion we feel for sacred music in a way that reflects worship and reverence, is delivered with excellence and is true to what the composer was inspired to write.  Of all of the CDs we have released, I believe this project truly represents the totality of the Choir's musicality."
Songs like "Take It To The Lord In Prayer", sweetly arranged by Rev. Nolan Williams, "Hold On" by Arphelius Paul Gatling, Jr. and "Nothing But The Blood", arranged magnificently by Myrna Summers offer a variety of breathtaking music, executed flawlessly.  Sixteen tracks in all, listeners will enjoy other tracks like the churchy "Highway To Heaven", the majestic "It Is Well With My Soul" and the unforgettable masterpiece, the bonus track "Even Me".  A choir director's dream, this project stands out from the rest with stunning vocals, perfect intonation and dictation, brilliant orchestration and arranging and one spirited, heartfelt performance after another.
For more information, log on to the choir's website, PLundyMOM.com. Connect with Patrick Lundy & The Ministers of Music on Facebook and Twitter (@PLundyMOM).