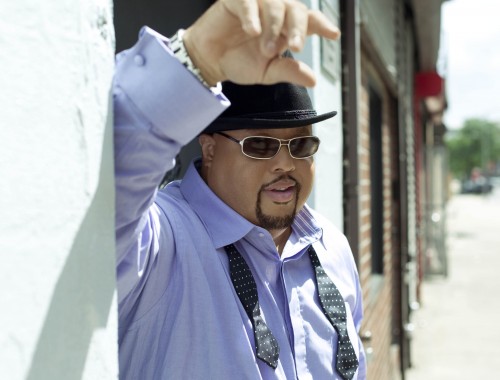 Earlier this month, gospel artist Fred Hammond debuted his highly anticipated new single, "I Will Trust" on Facebook and the response was tremendous.  To date, the "I Will Trust" post has received over 15,000 Likes, 5,000 shares and numerous comments from fans.  "I Will Trust" is Hammond's personal testimony birthed from his recent double knee replacement surgery and serves as a powerful anthem for all.  The song is the first single from Hammond's forthcoming album on RCA Inspiration.  "I Will Trust" is available now on alldigital music providers.
"After my double knee replacement surgery, simple tasks like going to the restroom or putting on my socks felt almost impossible without assistance," said Fred Hammond.  "This was a low point for me…as I lay there in bed often times with tears running down my face uncontrollably… I would whisper to myself 'I have to trust Him', 'I must trust Him' 'I will trust you'."
In addition to being in the studio working on his latest project, the talented songwriter, producer, vocalist and CEO of Face to Face Productions Corporation is gearing up to hit the road with label mate Donnie McClurkin for the Festival of Praise Tour this fall.
Amazon
http://smarturl.it/IWillTrust-A
iTunes
http://smarturl.it/IWillTrust-I
Spotify
http://smarturl.it/IWillTrust-S
FESTIVAL OF PRAISE 2014 TOUR DATES 
9/17—Houston, TX—Fallbrook Church
9/18—Dallas, TX—Verizon Theater
9/19—Kansas City, MO—Music Hall
9/20—St. Louis, MO—Friendly Temple MB Church (Main Sanctuary)
9/21—Minneapolis, MN—Minneapolis Convention Center
9/22—Des Moines, IA—Cornerstone Family Church
9/25—Columbus, OH—Palace Theater
9/26—Cleveland, OH—Cleveland State University
9/27—Detroit, MI—Detroit Opera House
9/28—Chicago, IL—Horseshoe Chicago Casino
9/29—Davenport, IA—Adler Theater
10/3—Newark, NJ—New Jersey Performing Arts Center
10/4—White Plains, NY—Westchester County Center
10/5—Baltimore, MD—Modell Performing Arts Center At The Lyric
10/7—Charleston, SC—North Charleston Performing Arts Center
10/8—Washington, DC—Evangel Church
10/10—Hampton, VA—Hampton Coliseum
10/11—Charlotte , NC—Ovens Auditorium
10/12—Columbia, SC—South Carolina State Fair Grandstand
10/13—Birmingham, AL—Cathedral Of The Cross AOH Church
10/15—FT. Myers, FL—Harborside Event Center
10/16—Tampa, FL—USF Sun Dome
10/17—Orlando, FL—CFE Arena
10/18—Miami, FL—James L. Knight Center
10/23—Macon, GA—Beulahland Bible Church
10/24—Augusta, GA—James Brown Arena
10/25—Atlanta, GA—Cobb Energy Performing Arts Centre
10/26—Greensboro, NC—Corbett Sports Center-A&T University
10/27—Knoxville, TN—TBD